Abergwyngregyn is a small village and an excellent base from which to explore the surrounding countryside. The Aber Valley, near the village, is a steep sided valley in the foothills of the Carneddau, which houses the Coed Aber Nature Reserve and at it's end the falls of Rhaedr Fawr (Aber Falls) where the Afon Goch plunges over an escarpment of 120 feet. On the shore at Abergwyngregyn is the Nature Reserve of Morfa Aber, where there is a public bird hide, open all year. Birds that may be seen are curlews, widgeon, several duck species, and potentially kingfisher and (if you are really lucky) an otter.
Photographic opportunies
Morfa Aber
Wildlife – birds, otter, birds of prey, squirrels
Aber woodland
Aber Falls (Rhaedr Fawr)
Rivers and bridges
Iron Age and Roman ruins, Aber Valley has traditional association with Princes of Gwynedd
Abergwyngregyn castle
Black Point, Penmon lighthouse, Puffin Island, Lightkeeper's cottages, Lifeboat shed
Pleasant walk from village car park to Aber Falls will give opportunity to appreciate the village architecture
Footpaths through woods and onto high land, views over Lavan Sands to Anglesey
Lambs, and sometimes ponies
Grey wagtails and dippers might be seen at rivers
Bluebells
Bats. Pipistrelle and common-long eared bat have been recorded in the valley
Special Photographic Features
Abergwyngregyn
The village started as a Manor Village in the 11-12th Century. It was substantially rebuilt by the Penrhyn Estates in the 1850s. Lots of interesting buildings including a large mill. Llywelyn the Great stayed here briefly, although it is uncertain which residence he stayed at, maybe Hafod Y Celyn, maybe a large stone built house next to Mwd.
Pen Y Bryn is a contender for having been the site of the last Prince Llywelyn at the end of the 13th century. The literal translation of Abergwyngregyn is 'Mouth of the Stream of the White Shells'.
Abergwyngregyn Castle
An earthwork motte, incuding some rough stonework. A large, conical flat-topped mound, this is also known as Pen Y Mwd in Welsh. Thought to be a 5th or 6th century ceremonial site, it was reused until the 11th century.
Aber Valley
The woodland that used to cover great tracts of the lowlands and lower mountain slopes of Wales gradually under the impact of humans. Forest was cleared to make way for man to till the soil and keep domesticated animals. Very few traces of original forest remain, but in places like Aber Valley it is possible that some form of forest cover has always persisted. It is possible that the slopes of Maes Y Gaer and the gorge of the Afon Rhaedr Fawr may have been tree clad since ancient times.
There is evidence of early human habitation with an Iron Age hill fort on Maes Y Gaer ( c.500BC), there are round huts on valley floor and cairns on valley sides. During the 15th and 16th centuries stones were cleared from open ground, and dry stone walls built. Since the 18th century sheep have been the main grazing animals here. There are horses here sometimes too. The
wooded valley provides for a range of woodland birds such as the green and great spotted woodpeckers, nuthatches, tree creepers and great, blue and coal tits. Summer visitors are the redstart with its bright red tail, wood warblers, willow warblers or chiffchaffs.
The walk to the valley from the car park, means crossing either Afon Rhaedr Fawr or  Afon Anafon, the two fast flowing converging upland rivers at Aber.
There are both deciduous and coniferous woodland side by side at Aber Valley.
The deciduous woodland containing oak, ash, hazel, alder, blackthorn, willow and birch tends to have woodland flowers like the primrose, wood sorrel, wood anemone and bluebell flower early in the spring before the dense canopy closes in summer and shuts out and the light. A lot of the trees have mosses and lichen on them.
There are differently managed areas at Aber. One area is fenced to keep the sheep out, allowing the ground flora to flourish.
Rhaedr Mawr/Aber Falls
Located about two miles South of the village of Abergwyngregyn is the dramatic waterfall, where the Afon Goch plunges 120 feet.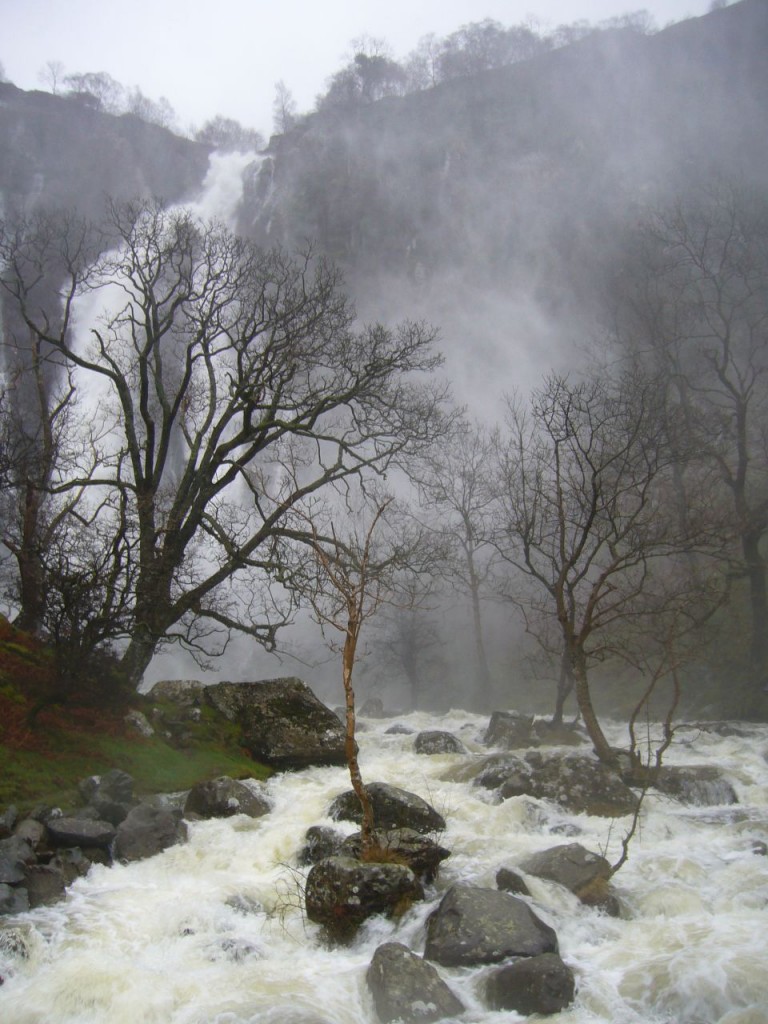 By Mike Peacock

Calmer day by Gail Johnson
More images can be seen here
Special Equipment/Considerations
There are a few bits of special equipment that might be needed in this area.
Footwear I
would recommend sturdy footwear, and appropriate clothing for the weather.
Tripod. Helpful for the landscape shots too – lightweight one would be preferable on long walks
Extra lens cleaning cloths North Wales weather unpredictable, spray off falls can be heavy
Wide angle lens I would take a range of lenses, but think that as wide an angle as possible is a must to really capture the scene.
Telephoto lens for distant shots of Waterfalls or for wildlife or lambs
Best time of Year or Day
When the falls are full is good for the image, maybe less so for the camera
Spring when lambs around and everything fresh and green
Bluebells can be beautiful
Autumn colours
Bleakness of winter
Getting there
Abergwyngregyn is accessed via Junction 13 off the A55
Morfa Aber – follow the brown and white Nature Reserve signs after exiting A55
Aber Falls – follow the signs after exiting A55, there is a single track road leading from the village to two pay and display car parks in Aber Valley
Abergwyngregyn Castle: located behind houses and opposite a chapel in the village centre. The site is visible from the road and there is roadside car parking.
Public transport: served by the Arriva No. 5 Service operating between Caernarfon, Bangor & Llandudno
Stops at Abergwyngregyn, outside the Aber Falls Tavern.
Interesting site on Aber which includes a link to an an excellent village map.