A myriad of waterfalls, streams, woodland and leeches Hazelbrook has become well known with local photographers. After a decent downpour (lots of rain for several days) Hazelbrook is second only to the Valley of the Waters for waterfall photography. Both locations can be found in Blue Mountains National Park and are a short drive from Sydney.
Special Photographic Features or Notes
Oakland Falls
Oakland Falls is the main draw card in Hazelbrook and is unique in that you can walk behind and around the fall in its entirety. The falls flow down an overhang with a shallow cave offering protection from rain and a path to the other side. The cave and overhang gives you a great opportunity to shoot pointing outwards or through the waterfall. The large rocks at its base add further interest especially with the addition of a polarizing filter which will bring out the rich red colour. There's plenty of foreground interest about and even a few rocks you can precariously perch yourself on to shoot facing the waterfall. Or if you are feeling brave you can jump in the water, just be careful the current can move pretty quick after lots of rain.
Burgess Falls, Horseshoe Falls, Glow-Worm Nook Falls
Burgess and Horseshoe falls are short walk on from Oakland falls. Follow the signs taking you down some steep rocks to the falls, the track loops around after Burgess Falls so you can keep on following it to get back.
Glow-Worm Nook Falls is another waterfall that flows over an overhang and small cave. This one is a bit of a tight squeeze and a struggle to shoot from behind. You can access this one by walking in behind Oakland Falls, out the other side and up the slope for 50 odd meters.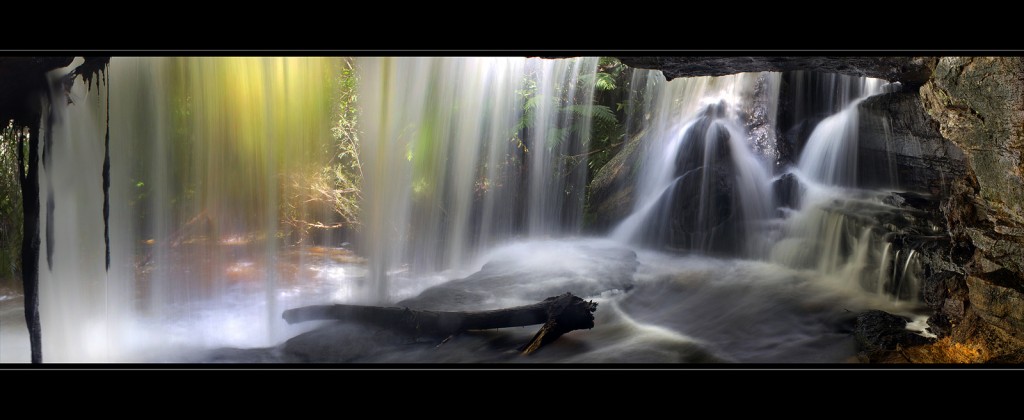 Natural Curtain Of The Underworld by Rhys Pope Photography
Terrace Falls
Located on the South side of the Great Western Highway this is another popular location with photographers. Access is a bit harder, read the 'Getting There' section below for more details.
Night Photography
This location would be suitable for some night photography however the woodland is pretty thick so you wouldn't be able to capture the sky readily. Hazelbrook is quite a small town so light pollution would be minimal.
Special Equipment
Salt, a cigarette lighter or anything else that leeches don't like. I went to this location with hiking boots, long waterproof socks, tracksuit bottoms and waterproof trousers yet I stil came out with several leeches stuck to my legs. I didn't get in the water so they must have crawled up from my boots until they hit skin. I also found several on my bag and jacket so be sure to have a good look over all your gear before taking it home.
I didn't have any 'special equipment' so ended up pulling them off. It is a myth that they leave teeth or anything under the skin by pulling them off rather than burning them. Get some tissues to mop up any blood, the anticoagulant in the leeches saliva will make you bleed for ages.
Best Time to shoot
As with most forest / waterfall shots an overcast, cloudy day will yield the best results. As the light is diffused you won't get patches of light where the sun pierces through the forest canopy. I have only visited this location after lots of rain but would suffice to say it is more impressive with high volumes of water.
Getting there
Hazelbrook is approximately 1 hour 15 minutes drive from Sydney city.
Access to Oakland falls is via a walk starting at the end of Alexander Ave, Hazelbrook. You can park on the grass at the very end of the street. Here's a link to the location on Google Maps. I haven't found a good map of the area detailing where the waterfalls are however it's pretty obvious when you get down there. The only waterfall that wasn't obvious to me was Oakland Falls, you need to go left when you come to the bottom of the hill and hit the stream. Taking a right will lead you to the other waterfalls (Burgess Falls, Horseshoe Falls). The entire loop track will only take an hour or so to get round without stopping for photos. I ended up spending a good few hours down there taking my time. Access via Winbourne Road is documented here and includes detailed track notes.
Terrace Falls is accessible via Terrace Falls Road using high clearance vehicles only, the last stretch is a bumpy dirt track. From the car park there is a short but steep walk down to the falls, be very careful if you are visiting this location in the rain as the rocks will be slippery.

View Hazelbrook in a larger map