I'm amazed at how many people view my pictures of the Homebush Bay ship wrecks and make the same comment… "Wow… I never knew there were any wrecks like this in Sydney".   Well these wrecks are easy to photograph and can be quite rewarding.
Special Photographic Features or Notes
There are two main wrecks that are easy to photograph and a couple of other smaller wrecks that are a bit harder to get to…. I will describe the two main wrecks here.
The Main Wreck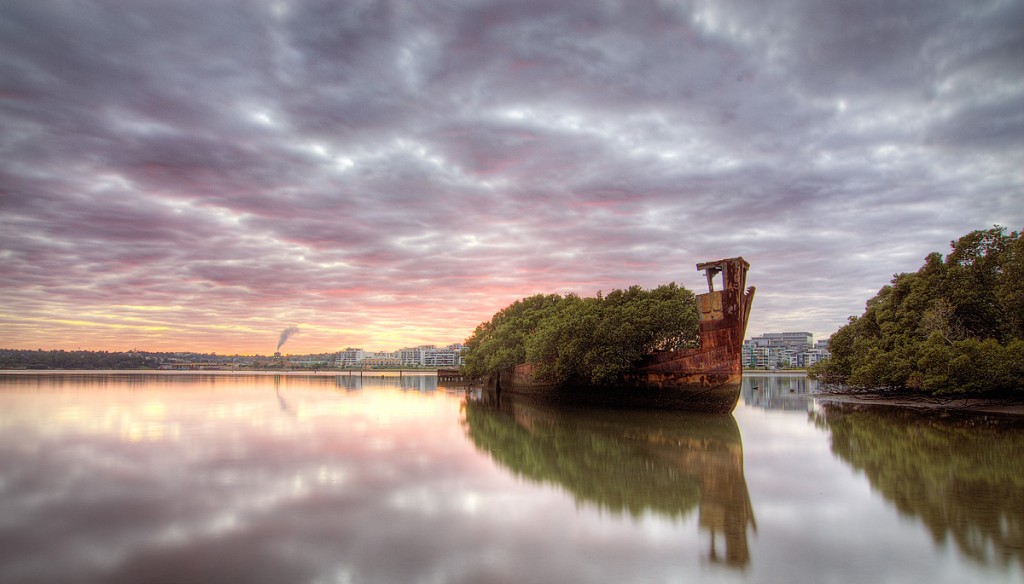 This is probably the most photographic wreck because it is surrounded by water and lies due East from the land (making it a good sunrise subject).  If you want to get really close to the wreck at low tide I would advise you to wear gum boots if you are planning to get down in amongst the mangroves for some shots.  Otherwise you can get some good angles from the rocks by the side of the water.
Hidden Amongst the Mangroves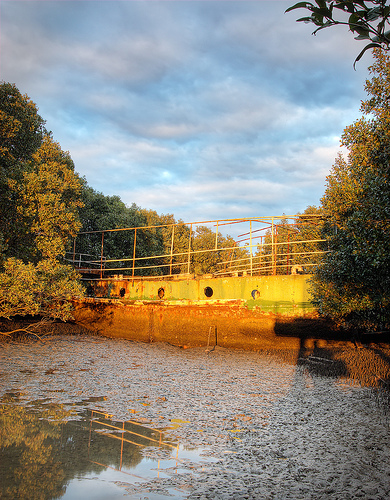 You can easily miss this shipwreck if you don't know it is there… you need to take the little path off to the shipwrecks and almost do a 180 degree turn to see this wreck…. It lies nestled in the mangroves facing due West.  When the sun rises over the buildings in Rhodes, the golden light can really make this wreck come alive.  There are some good shots if you climb down underneath the handrail, but be careful it is very muddy down in there.
Bird Wetlands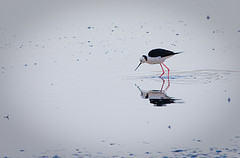 A short 100 metre walk further down the path will take you to a lovely bird wetlands reserve… there is a hide that you can use to photograph the birds and it is quite photogenic.  Personally I'm not into wildlife, so I can't tell you what type of birds you can find there.
Photo by Gavin Marchio
Night Photography
There is a lot of stray light from the apartment blocks nearby, so the main wreck is not suitable for those wishing to do long exposure night photography, however you might have better luck shooting the wreck against the mangroves.
Special Equipment
I'd bring gum boots if you are planning to get down in the mangroves, and a towell to clean your gear afterwards.
Grad NDs are useful for shooting the main wreck as it will be against a bright sky.
Best Time of The Day
Pre-dawn and sunrise of course.
Tidal Information
OK… You can shoot the wrecks at any tide, however if you want to get close to the main wreck then you should look for a very low tide.
Wind Information
Wind isn't really a factor for this site.
Getting there
Click Here to see the location marked on Google Maps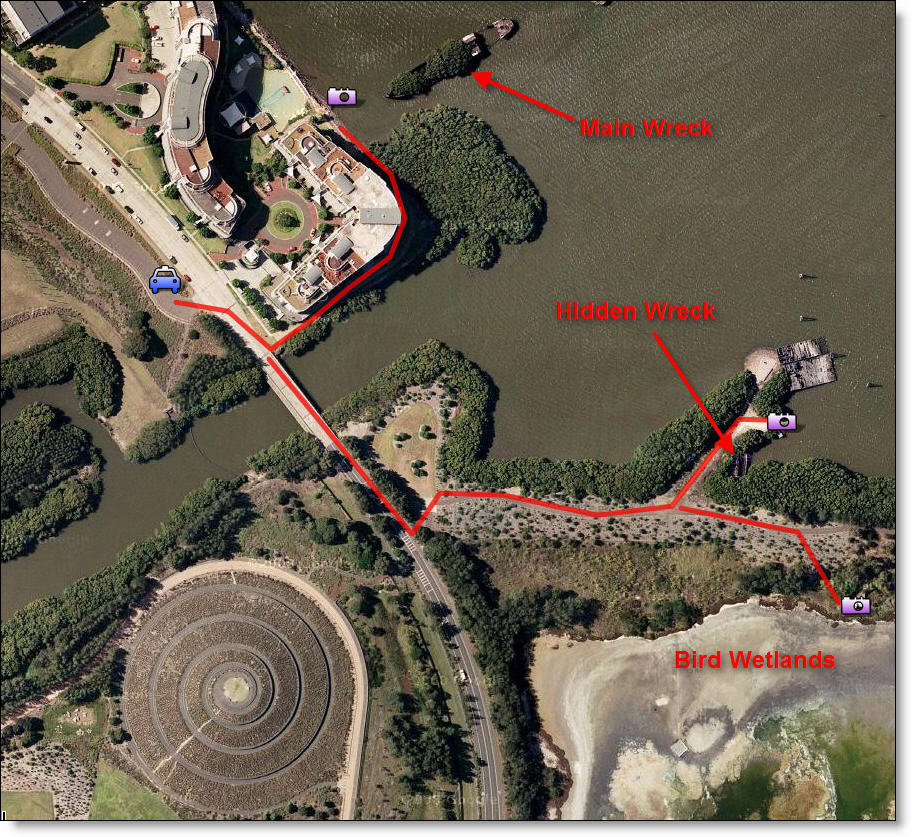 Best place to park is in the carpark at the Archery center.  To get to the main wreck you follow the path along the side of the block of flats.