Wattamolla beach is located in the Royal National Park approximately 50 km from the Sydney CBD. It is often called Sydney's safest beach and is popular with families during summer. It has a wide sheltered beach flanked by cliffs and rocks on the north and south penisulas and a shallow lagoon that features a waterfall. There are also numerous walking tracks in the area.
Special Photographic Features or Notes
Wattamolla beach offers varied opportunities for a photographer, in that there is the main beach flanked by cliffs and coastal rock areas, a shallow lagoon that empties onto the beach and a small waterfall that falls into the lagoon. The site has a sizable car park for the dawn shooter and I'm told there is a kiosk that opens after 1030 for light refreshments.
Wikipedia : Wattamolla
Wikipedia : Royal National Park
Rock features near the beach :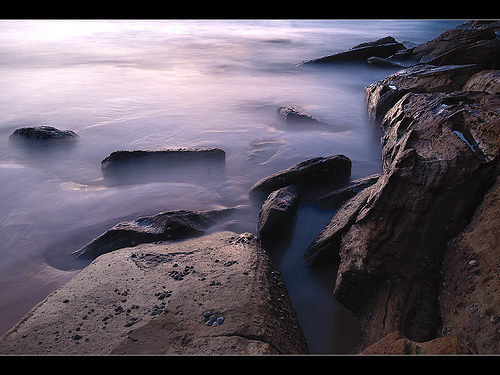 Beach view with lagoon stream emptying on the beach to the sea :

Waterfall in the lagoon :

Night Photography
The gates to the area close at 2030 and I have not tried night photography at this location, but there would be unique shots for the taking given there would be minimal light pollution on the beach.
Special Equipment
Standard gear for a dawn shoot would include :
• Tripod or beanbag
• Good walking shoes with grippy soles if you plan on scrambling over the coastal rock areas
• Neutral density filters
• Water
• Torch / headlamp
• Long sleeved clothing for walking through the bush
Best Time of The Day
I have only been there at dawn, the gate seems be opened very early, at least before 0530 which is when I arrived there while it was still dark.
Tidal Information
Tidal information for Wattamolla Beach
Getting there
From Sydney, follow the Pacific Highway until Sutherland, then take the exit (which is well sign posted for the Royal National Park) to Farnell Avenue and follow that until you see the turn off to Wattamolla Rd.