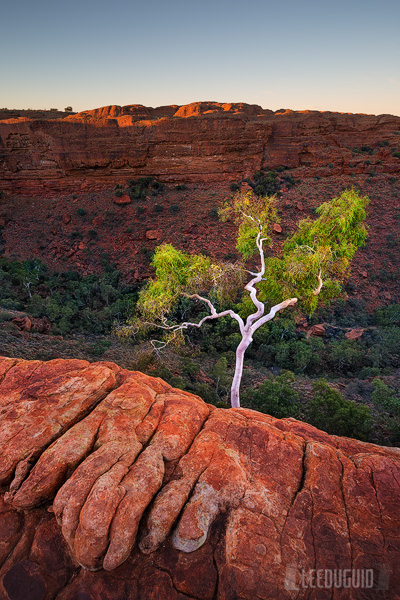 Kings Canyon photographed about 1km into the rim walk at sunrise (point 2.)
Living beside Uluru one of Australia's top natural attractions, King Canyon is often over looked by the hordes of tourists that frequent the area. However Kings Canyon offers everything outback along with some very unique landscapes. There are several parts to the Canyon with numerous photographic opportunities making Kings Canyon a must for those visiting the area.
Special Photographic Features or Notes
Kings Canyon has two main short walks as well as some extended multiple day walks. I will not be writing about the extended walks as I have no experience of them (please comment below if you can add to this guide). The two short walks include the easy and very short Canyon floor walk and the longer and harder Canyon Rim walk.
As the Canyon floor walk is so short it's worth doing even if it isn't quite as photogenic. The notable photographic locations can all be found on the rim walk.
Rim Walk
The car park to Kings Canyon starts at the canyon floor. That means if you want to look into the canyon first you need to climb it. The National Park office asks that to walk the rim clockwise to ease congestion at busy times however if you are going up for sunrise or sunset there should be no issue going either way. Regardless of the direction you take it's a steep climb for the first 20-30 minutes and only recommended for those with a reasonable fitness level. I climbed up three times in the first day with all my camera gear and water so it's not that hard, just take your time if you are struggling.

Kings Canyon, end of the rim walk photographed at sunset (point 5.)

Kings Canyon, start of the rim walk photographed at sunrise (Between point 1 and 2.)
There are a couple great spots around the track but generally it's all very pretty and photogenic. Here are some notable spots.
Rim Walk – Garden of Eden
A side walk to the main rim walk the Garden of Eden is a must visit and a great place to stop of for a break. The area offers relief from the days heat, a waterhole to dip your toes in and a number of things to photograph (birds, reflections, trees, plants).

Garden of Eden (point 4.)
Rim Walk – Sandstone Domes
For me the absolute most photogenic part of the walk were the sandstone domes found exactly halfway round the track (top of stairs after Garden of Eden looking back). Facing East the domes would be best photographed at sunrise. They would like up in the morning sun beautifully, just don't get your shadow in the frame (the sun will come up behind you). I didn't make it this far on the morning I went up but would say this is a morning location for sure. A 3km walk (1-2 hours) is a bit of an ask for sunrise however I'm sure it would be magical.
Rim Walk – Canyon Views
There are specific spots that offer the best views into the canyon with wide vistas perfect for landscape photography. The points marked as a lookout on the map below each provide a unique perspective. Just don't walk too close to the edge!
Night Photography
With little or no light pollution this spot is perfect for some night photography. You haven't seen stars until you go somewhere remote like this, just don't go when there is full moon.
Special Equipment
If you visit this location during the day I advise you take a broad rimed hat along with water, sunscreen and a fly net. This place gets very hot even in the cooler months and there are a ton of fly's about when the sun is up.
Best Time to shoot
I would probably head here in the cooler months (May to September) as the tracks are closed when it is too hot. The first 1km at either end of the track is suitable for sunrise or sunset. The sandstone domes midway around the rim walk are probably best photographed at sunrise however they are a 1 to 2 hour walk in. Before sunrise the red rock of the canyon starts to glow a rich red where the first indirect rays of light start to hit. An amazing sight to see and worth getting up for.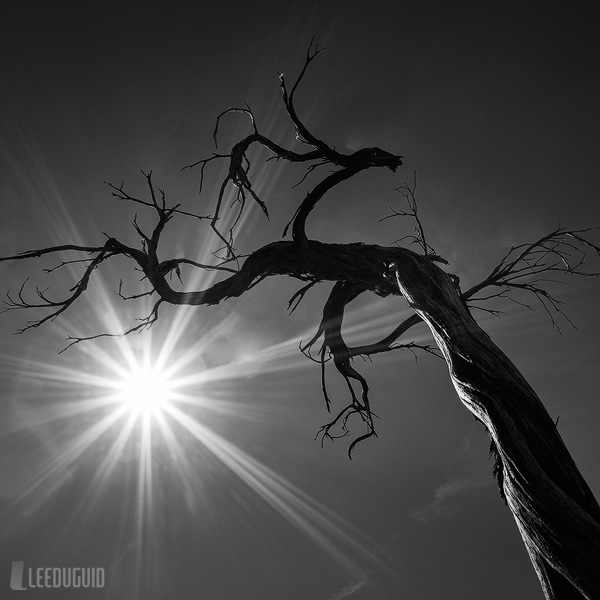 One of many twisted trees on Rim walk (point 3. approximately)
Getting there
If you have the luxury of time (at least 10 days), fly into Alice Springs, hire a campervan, stock up on supplies then head off to the Macdonnell Ranges, Kings Canyon then Uluru. If you are short on time (4-10 days) fly to Uluru, hire a car, then head off to Kings Canyon first then back to Uluru and Kata Tjuta.
A map and more information regarding the walks can be found here: www.parksandwildlife.nt.gov.au. I have attached the guide WalksofWatarrka however best to check their site for an updated version.

View Kings Canyon in a larger map
Food & Accommodation
Both of these along with everything else are in limited supply due to the remoteness of this location. As a consequence you will pay a premium. This is not a cheap holiday however if you come in a campervan from Alice Springs loaded with supplies you can do it on the cheap(ish). A number of accommodation options are available at Kings Canyon Resort a short drive from Kings Canyon.

Kings Canyon, full moon at start of rim walk photographed before sunrise (point 1.)