For the majority of people, having the opportunity to photograph the Pyramids at Giza is a dream come true. To touch these mighty structures is awe inspiring.
Aside from the experience of being there, everyone hopes that they can capture photographs that will do the pyramids justice. Do not underestimate this challenge. It is a challenge. Millions of tourists anticipate seeing their images, but sadly, many are very disappointed when they finally develop them (digital or film).
This guide gives you tips to meet this challenge and produce stunning images.
Special Photographic Features or Notes
Being an informed tourist is the key to a successful trip, especially for photographers.
If you are with a tour group or private guide make sure you are well aware of the itinerary. In most cases, tour group organizers and private guides will pre-purchase entrance tickets onto the pyramid grounds. Ask to make sure the tickets have be purchased. If they have not, be prepared for a long wait in line.
When with a group or private guide, it is extremely important that you stick close to your guide. Do not lose them. It sounds easier than it is. Once on the grounds, you will be bombarded with sensory overload. Vendors and children yell out for your attention; and other tourists are jostling for position.
Depending on the weather conditions and air quality, you may also find yourself struck by the smell of camels and the sandy grit in the air. While dealing with these distractions, you also try to take in the majesty of the pyramids. It can all be quite overwhelming. Sticking close to your guide will ensure that you do not get lost on top of it.
Special Equipment
Appropriate clothing for the season is extremely important. Sunscreen, hats, plenty of water, and sunglasses are a must in summertime. * Do not depend on your guide or tour group operator to provide water.
If visiting in the fall/winter/spring research night temperatures. Deserts get quite cold at night. If you plan on visiting the pyramids at night an appropriate jacket will be necessary.
Keeping  small bills in one pocket will help when tipping people or making small purchases. Once you enter the grounds, you will be surrounded by people wanting to "help" you. They may offer to direct you where to take pictures; they may offer to take your picture; or they may assist you if you dropped something on the ground. In all of thesecases, you will be asked to tip. Note: I do not recommend accepting their advice about where to take pictures. This advice rarely gets you to a good vantage point, and is usually just a way to earn tips. Your guide can better advise you on these matters.
Camera Equipment Recommendations
A lens with a wide focal range is a real asset in this situation. Unless you are on a dedicated photographic tour, you will not have opportunity to swap out lenses. Pick a lens that is versitile enough to capture the pyramids at a distance as well as closer features.
A polarizing filter is essential. Without one, skies will be washed out and the tones of the stonework will not be true to life. Be sure that the sun is at a 90 degree angle to your subject to get the optimum effect.
A tripod is not recommended on the grounds. It is too difficult to maneuvre with and they usually won't let you in with one anyway. Again, this depends on whether you are "regular tourist", or on a pro-photography tour.
Micro-fibre cloth and blower should be easily accessible. It is so dusty that your will find these very handy for cleaning your lenses.
A lenshood will help prevent lens glare and is quite handy when shooting in the desert.
Shooting in RAW (for digital photographers) will allow you to have greater control over your exposure and lighting when the time comes to post-process. For film photographers, it is a good idea to keep your film canisters in a zip lock bag. This will prevent dust from getting into the canisters and then into your film.
Night Photography
It is highly recommended that you visit the pyramids at night. They put on a spectacular light show. Discuss this with your tour guide prior to going and find out about reservation/ticket requirements.
Shooting in RAW format is an excellent idea so that you can adjust exposure and white balance in post processing.
Be prepared to shoot longer exposures in order to catch the light.
Never try to photograph at night by yourself. You will definitely need a spotter who is paying attention to you and your gear.
Getting There
The best piece of advice I can give is to be part of a tour group or, better yet, hire a private tour guide, especially if it is your first time seeing the pyramids.
Your are by far better off arranging this with your travel agent when you are booking your trip, or you can ask the concierge of the hotel to book one. They have a vested interest in working with good guides, and generally you can be assured that the guide they choose is highly knowledgable about the site, and will ensure you get the vantage point you want.  You will be far less intimidated and can focus on enjoying the views and taking photographs. Avoid making arrangements with "guides" at the site, as you can not be assured their competency or ability.
A Special Note About Hiring a Guide or Tour
There are so many tour guide operations (group and private) that it would be impossible to list them here. It is best to discuss this with your travel agent. Here are a couple of examples of packages listed online. Your travel agent may recommend a tour company that has longer or shorter tours that may fit with what you are looking for.
www.travelegypt.com/photographerstour
www.1worldtours.com/Photographers-Artists
When deciding on a guide, ask questions about their itinerary. Be very specific and ask for specific timings. Trying to visit the Pyramids and the markets, in the same day, leaves very little time to photograph either one. I have heard of tour groups that allow only 1 hour at the pyramids. This is not nearly enough time.
Knowing the General Area
This map shows the locations where the images on this page were shot.
When taking photos of the Sphinx and around the Eastern Cemetary, it will be extremely crowded. There will be a lot of pushing and jostling for pictures.
The causeway leading to the Sphinx is quite narrow and only a few people at a time can take images from this vantage point. There is very little room to move, so work quickly.
In order to take image #5, you must make your way to a nearby lookout point. This area overlooks all of the pyramids and is a great opportunity for photography. Private guides and tour bus operators drive their guests to this point.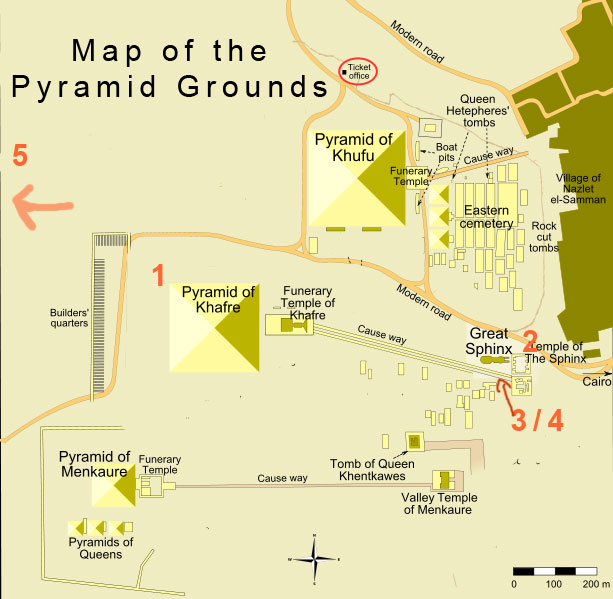 Photographing the Pyramids at Giza is a fantastic opportunity. I hope that this guide helps you to be better prepared and take stunning photographs.
To view photography from this author, please visit lisasolonynko.com