St. Hilarion Castle is interesting to photograph for many reasons. It is situated in the occupied territory of North Cyprus. This portion of the island was invaded by Turkish forces in 1974 and remains a contentious issue. There are approximately 1000 United Nations Peacekeepers, located along the Buffer Zone, in order to keep the island peaceful.
Photography in Cyprus can prove a challenge if you are not sure where to go, how to get there, or how to keep your camera equipment from being confiscated.St. Hilarion Castle is an 11th Century castle that is rumored to be the inspiration for Walt Disney's Cinderella Castle. Read the history of St. Hilarion here.
Visiting this castle is an incredible experience, but photographers in particular need to be prepared for its many challenges.
Special Photographic Features or Notes

It is extremely important to note that there are very strict rules about photography in North Cyprus.
As you drive to St. Hilarion you will notice indications of a military presence. You may see barbed wire, military personnel, or red and white signs that depict a soldier on it. Please observe these signs. Do not take pictures of military personnel, bases, guard stations, or anything else you are not sure about. It is extremely important as your equipment will be confiscated. Worst case scenario is that you will also be detained for questioning. Do not take the risk.
St. Hilarion provides excellent opportunities to photograph textures.
Special Equipment
Unlike visiting Cinderella's Castle, St. Hilarion Castle remains essentially the sames as it did centuries ago. With the exception of a number of hand rails being installed, it is still extremely rugged terrain. Appropriate footwear is a must. Something with a good tread is preferable, although hiking boots are a bit overkill.
Once you leave the parking lot and enter the castle area, watch you step…always. Do not get distracted with the views. If you want to determine the best composition for an image, stop and check your footing first.
You can walk up the pathways and stairs to the very top of the castle to get spectacular vistas. Keep in mind that it may take up to an hour. Water and a protein bar is good to have on hand to make sure you make it to the top. Mid-day in August is not the time to make this hike.
Summer temperatures (June – Sept) can reach as high as 45C. Anticipate an excursion of at least 2 hours and bring plenty of water. Light clothing and a hat are required if you want to survive the heat. Take these precautions seriously. Dehydration can occur very rapidly and will put you and your camera equipment at risk.
Winter temperatures (Nov – April) are quite reasonable at 12 – 20C. However, once the sun sets, usually by 5:00 p.m., night has fallen and it gets very chilly.
Camera Equipment Recommendations
Upon entering the castle, you are required to stay to the pathways, even in the lower parts.  They are narrow, and even a few visitors can create congestion.  Therefore, it is recommended that you bring only the minimum equipment your require.
Tripods are not recommended since the terrain is very uneven and you would block paths/stairwells. Just the act of carrying a tripod to the upper chambers could make your time very challenging. Adding other sightseers in the mix makes it even more treacherous.
Circular polarizers are a definite must have in this area. Without a polarizer, it will be extremely difficult to capture skies that are not blown out. Capturing the colour and textures of the castle walls is also very difficult without a polarizer. To get a rich blue sky, make sure that the scene you are capturing is 90 degrees from the sun.
A good multipurpose lens is the way to go as switching lenses is very difficult. The air can be quite dusty here as well, so the risk of getting your sensor dirty is quite high.
An exhibit within one of the chambers of the Castle.
Night Photography
Access to the castle is not permitted at night. It is not recommended that photographers venture to the castle at night (or stay at the castle after dark) because the drive back to the highway can be quite intimidating. The castle is not normally lit at night, nor are the roadways leading to the castle from the main highway.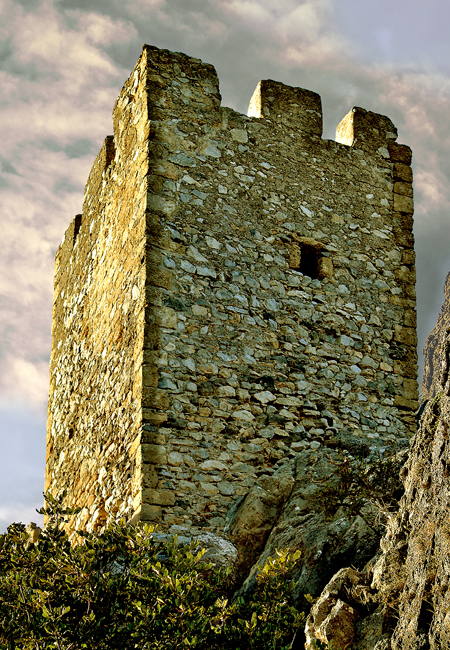 A huge tower that begs to be photographed.
Getting There
If you live in Cyprus, you will already know this information. If you are coming to Cyprus, this information will prove invaluable.
St Hilarion Castle can be easily found just off the Nicosia – Kyrenia highway, just where the highway cuts over the pass in the mountains. Signs clearly mark the turn off from both directions – departing Kyrenia or Nicosia.
It is important to note that most places in the North have different names in Turkish than in Greek. Kyrenia, for example, is the Greek name of this ancient port town. In Turkish, it is known as "Girne".
As well, Nicosia is also known as "Lefkosia" in Greek, and "Lefkosa" in Turkish. The major autoways in both the North and South Cyprus are well marked, although in the South they will have both Greek and Latin alphabets, whereas in the North they use the Latin Alphabet.
There are few crossing points from one side to the other. The one that you will want is known as "Ayios Dometios" in Greek, and "Metehan" in Turkish. It is located on the western side of Nicosia. Simply follow the "Kyrenia" markings, which are also seen on the highway leading into Nicosia from Larnaca and Limassol.Once you have crossed into the North, follow the road markings that direct you to "Girne". Once on the highway, you will see signs for St. Hilarion Castle.
The road to St. Hilarion Castle is only 9km up the road, and it is well marked. The turnoff is at the highest point of the highway on the north (left if coming from Lefkosa) as you crest the Kyrenian Mountains. It is a narrow road with many switchbacks, but its only destination is the castle.
You will pass by a Turkish Army training establishment.  Do not stop. Do not take pictures. The road climbs considerably, is quite narrow, with several switchbacks, so proceed with caution for oncoming traffic. Continue along until you come to the parking lot for the castle, where you will find the entrance.
Access to the castle are posted at the end of the parking lot. Please note that the castle is not accessible at night.
St. Hilarion has a huge footprint. Be prepared to walk a lot.
To view more of this authour's photography, please visit lisasolonynko.com