For the photographer it is a great place to not only to capture the surfing action but to capture some great shots of a remote black sand Bali Beach. There  are rice fields, palm trees, temples and villages along the way.Keramas beach is located on Bali's east coast and is about an hours drive from Sanur. It is a famous remote surfing location.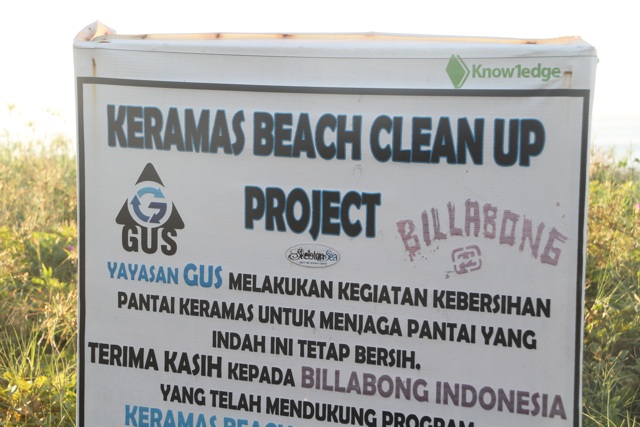 Special Photographic Features
Starting from the car park, a short distance north are 2 warongs where you can get something to eat and drink and capture the surf action from a comfortable chair.
Along the beach groups of people are collecting small black stones from the waters edge.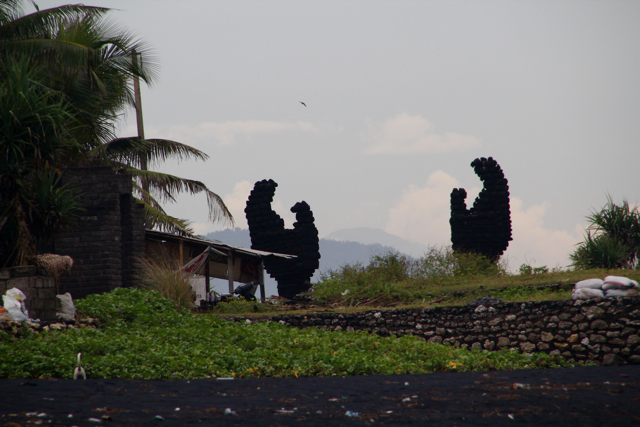 Further north there is a "village' with large strange sculptures overlooking the sea.
Continue north and there is a large temple and some interesting rock outcrops in the ocean
From here you can get a great shot of Mt Agung framed by palms and rice fields.
Local Warong , beer and jaffles

One of the many offering left on the black sand.
Night Photography
I have not been there at  night, might be a bit remote and isolated. Maybe a good spot to capture the full moon rise over the ocean and rice fields.
Special Equipment
A Tripod is  handy, filters etc…
A super zoom  is handy to capture the surfing shots.
Best Time of The Day
Sunrise is good time if you can get there in time, otherwise is it fine all day.
Getting there
Keramas beach is about an hours drive north of Sanur. You turn right off the main coast road into a track though the rice fields. There is no sign post. When I was there in Easter 2010 you turned at the "new Villa for sale". At the end of the track is a car park with a small bamboo bridge over a small creek then the beach.
The best way to find Keramas is to hire a surf guide or a driver from a surfing tour company such as Bali Worldsurfaris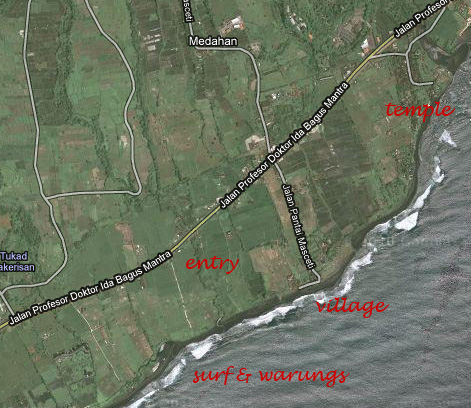 2012 Update
There is now a large Resort – "The Komune" just behind the warong. Nothing stays the same. Should make the beach easier to find.