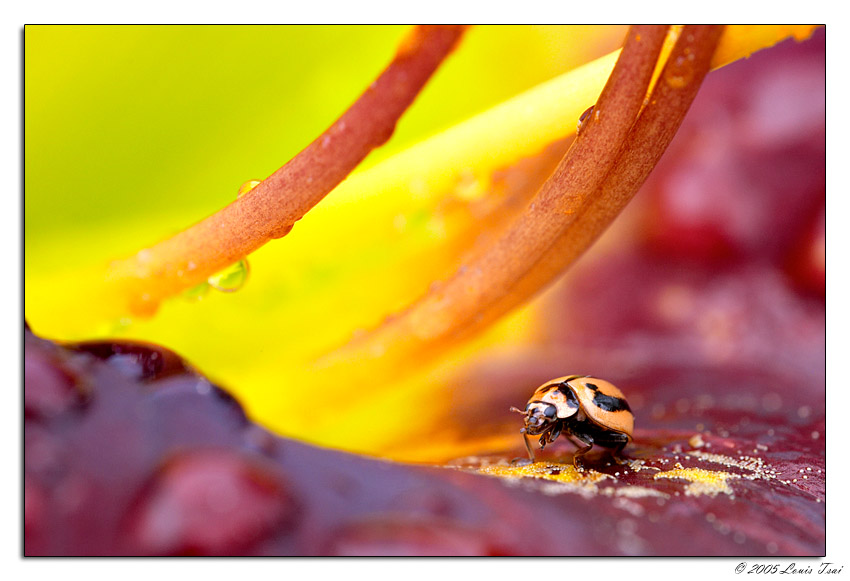 A ladybug enjoys a pollen lunch
Where Abouts:
Sydney's Centennial Park is located just outside the heart of Sydney's CBD, next to Moore Park and easily accessible by car and public transport.
Photographic Opportunities:
Flora
There are a lot of native Australian trees in Centennial Park, but there are also many imported ornamental ones. However, Centennial Park isn't quite a botanical garden, so if you are looking for huge varieties of flower to photograph, you might run out of subjects quickly. There are no exotic or rare species as far as I am aware.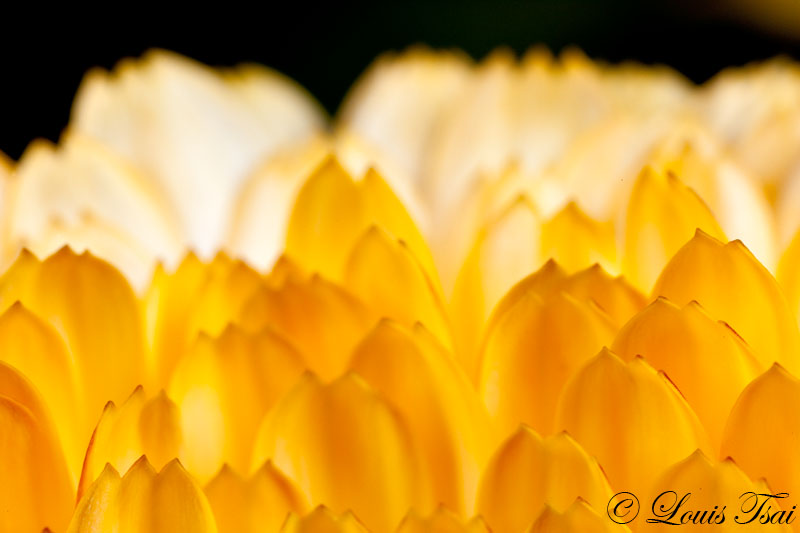 An abstract of a flower's petals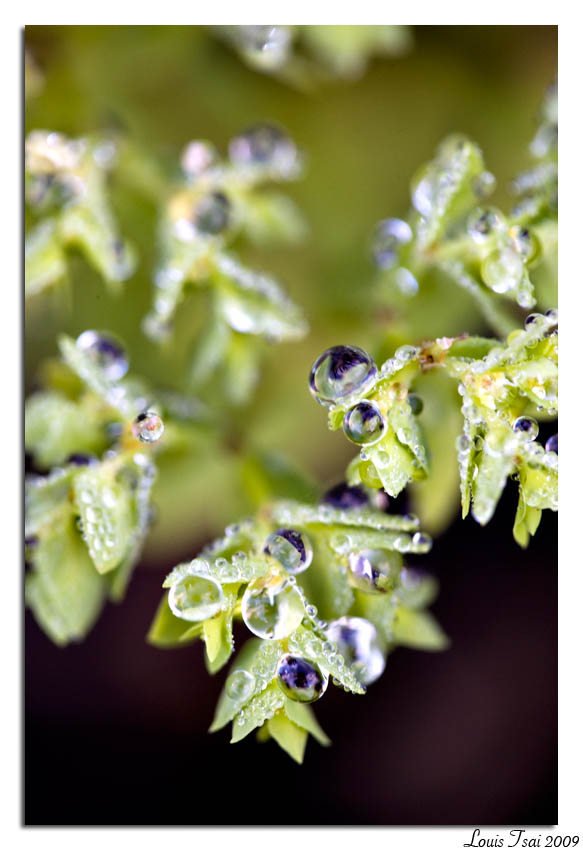 Water droplets on leaves during an interlude of summer rain
Fauna
Taking the flora into consideration brings us to the discussion of the fauna that resides in Centennial Park. Centennial Park is home to a large population of birds, both local and migratory. However, the main constituent of the avian population are rats-with-wings, a.k.a. seagulls and pigeons. There is also a significant pelican presence and the occasional rare bird. I am not a bird photographer by any measure, so I will let more experienced bird photographer/watcher cover that aspect. In addition to birds, there are also numerous species of fish and turtles that reside in the various ponds in the park. Underwater photography, snorkeling or scuba diving is not recommended in Centennial Park since most of the ponds have potentially dangerous cyanobacteria. These micro organisms can produce toxins that cause liver failure if you ingest enough of the pond's water.
Now, moving onto the main focus on this photographic guide, small critters of Centennial Park. By virtue of the flora of this park, large amounts of insects can be found when you know where to look! There are usually large amount of insects by the ponds and in the flower gardens. Some of the locations are marked on this map screenshot: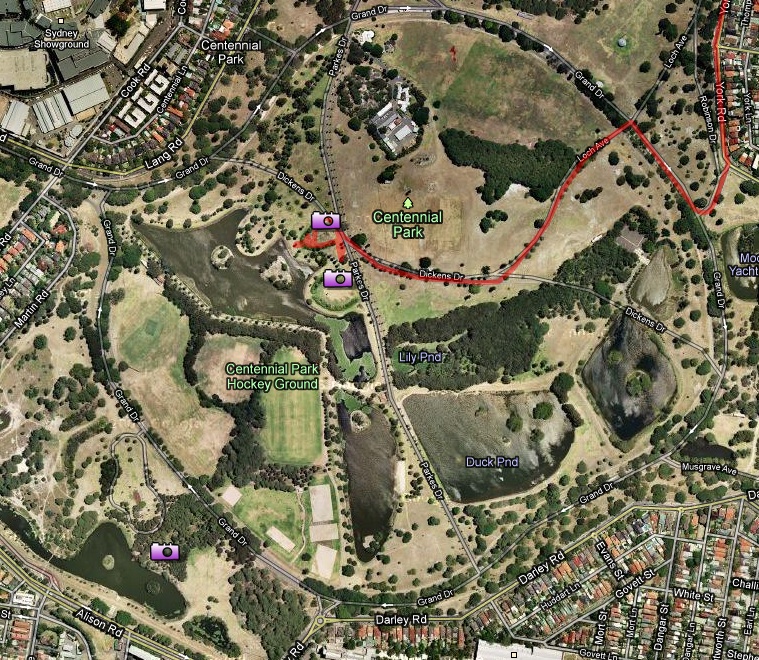 Satellite map of Centennial Park: The two flagged locations in the centre of the park correspond to two large flower beds. You will find lots of insects foraging for nectar here, and there is also a large dragonfly/damselfly population. The pond close to the margin of the park has lots of tall grass nearby. You can find grasshoppers, flies, dragonflies, damselflies, etc here. Since this pond is part of a waste treatment pond, do expect an attack on your olfactory senses.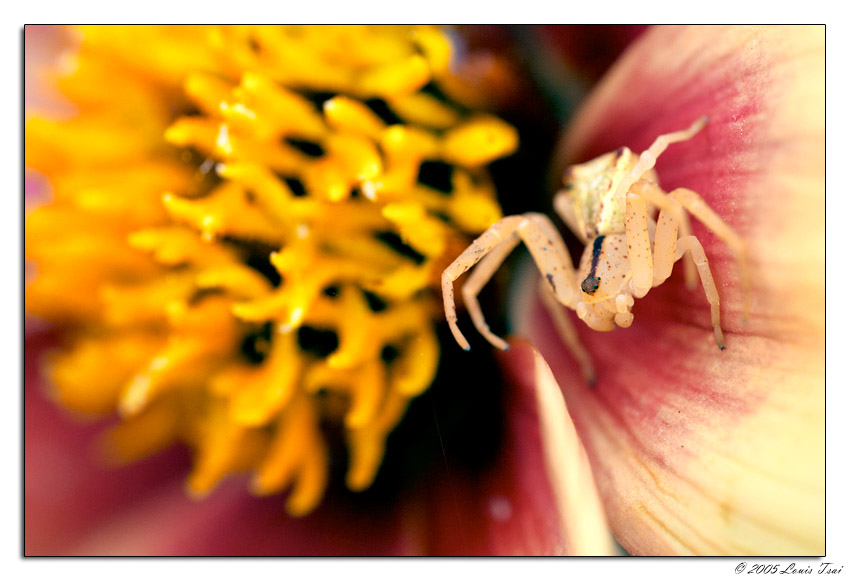 A crab spider ambushes careless insects foraging for nectar
Logistics
Bring insect repellent. This point sounds a little counter productive since the whole point to is photograph insects right? Due to the waste processing ponds in the park (and all the other bodies of water), there is a large army of mosquitoes in Centennial Park. I have never had issues with insects avoiding me because of the smell of insect repellent, so I would highly recommend it. Do not spray insect repellent on your palm since DEET, the active ingredient, will dissolve plastic, you could end up fogging on the plastic components on your lens and camera.
Sun screen and other sun protection.
Water. There are a few taps around for top-ups.
Knee-pads/small bean bag for you to kneel on if you love low angle shots.
Parking is available on the streets within the park and you can often park very close where you wish to go bug hunting.
Equipment
Camera, tripods and the usual suspects. It depends on what you intend on taking photos of.
Reflectors can be useful for fill light if you have someone to help you hold it.
Best Time
An high overcast day with short rainy periods is probably the best time to photograph Centennial Park. Arrive just after sunrise if you wish to photograph insects, since they are often too active by mid-day.