If you like the silence of nature and does not want to venture too far out of Sydney for a sunrise seascape shoot, this may be the location for you. Please be warned that there is a moderately steep hill that needs to be negotiated to access this location, which may not be suitable for everyone.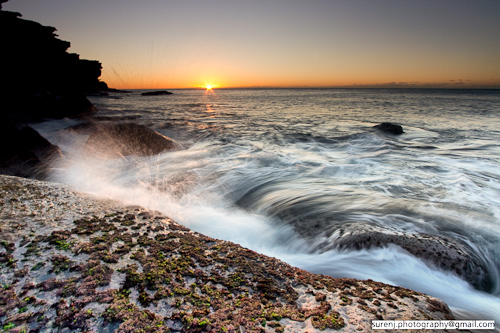 Northern end of the beach

Looking West
Tidal Information
We visited at tides of 1.4m with 1m swell. We had good access to the majority of the beach. At low tide, you will have more access. At very high tide, there is a risk of not being able to access the majority of the beach.
Wind Information
This site is protected from the north and south. It is exposed to the east.
Getting There
There are a number of routes to get to the North Malabar Valley, it can be approcahed from both the southern side (Malabar) and the northern side, (Maroubra Beach), both primary access points have multiple paths and tracks to follow, some of which do pass on restricted access land. Signage is limited at the location however care and council contact may be appropriate to ensure one does not trespass.
Ensure you have a map of some form, google maps on any modern phone will undoubtly save you time and make it much less painful to get to.
If one follows the coastline (either from the north or south sides) to the North Malabar Valley there are no signs stating trepass and appear to be well used by fishermen and horseriders. The more direct routes, which are car width trails, pass behind the Malabar Riding school and the Rifle Range, these are typically much shorter than the coastal route.
Getting there from the southern side via the long, but scenic route: Nearest street is Fishermans Rd, Malabar and teh Carpark is at Cromwell Park.
Parking at Cromwell Park on the Malabar side is free and frequented by fishermen at the early hours, a short walk along the coast reveals a more well defined track which can be followed right up to the tip of the headland on the northern side of Long Bay. There are some concrete structures on the headland, following teh coast northwards passes thru commonly used horse tracks and is sometimes alittle overgrown but there are spectacular views from the cliff tops, especially with the right morning light.
Once you reach the start of the valley there is only one route into the mouth of valley and this track is very well worn. To find this follow the green grassed area of to the right of the main track (if heading from the south), you will come to the valley and be presented with some very nice views of the souther cliffs and the trek into the valley. Take care on this path as it is steep and there is loose and wet patches.
Alternative routes do exist and are shorter, however scoping these out during good light is recommended.
<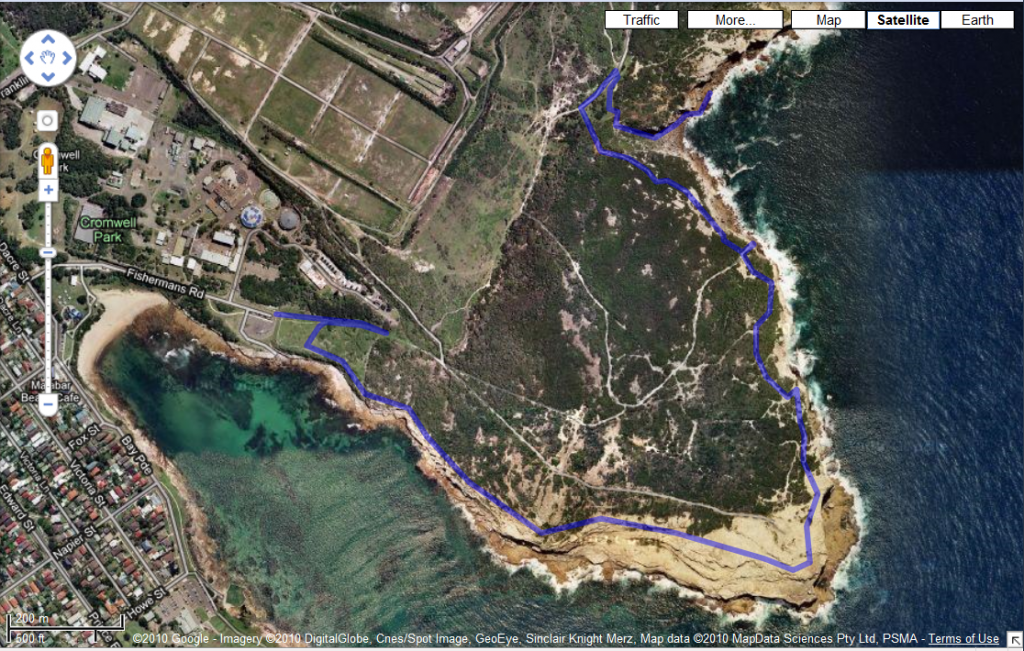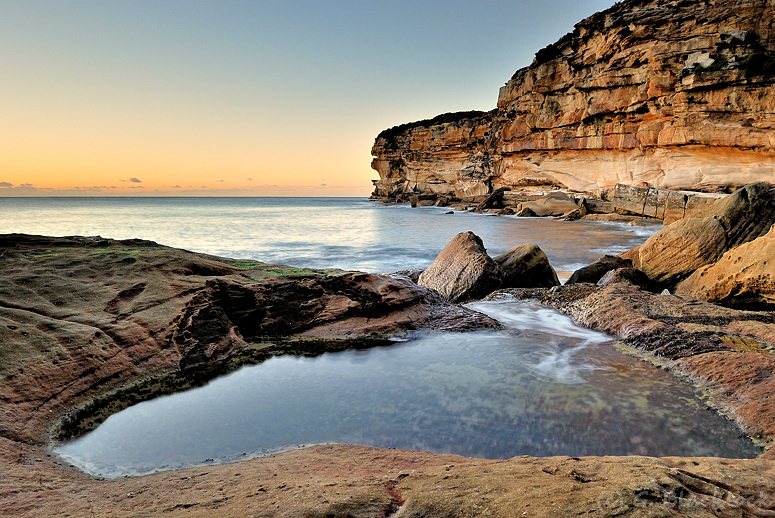 View Looking South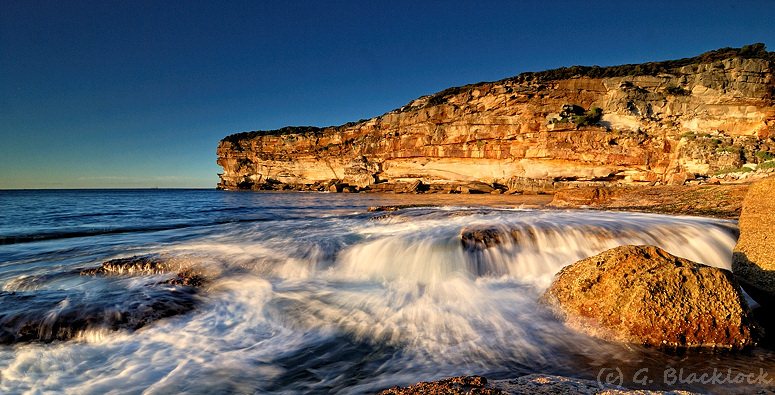 Night Photography
This area is not lit at night. Although it would be suitable for lightpainting, the access makes it a rather dangerous area to visit at night.
Special Equipment
Torch
GPS to find your way in the dark
Wide angle lenses
Usual grad filters for sunrise
Sandals are optional as you can probably keep your feet dry here
Sturdy shoes with strong grip to negotiate trek down the slopes and rock hopping on the beach
Water etc to wipe lenses and drink (There are no toilets, taps etc)
There is NO Telstra mobile phone reception – It may be wise to tell other people you are going here in case you get into trouble
Extra visible clothing as there is a rifle range nearby….