After covering most of the northern beaches of Sydney, I decided to set out to find new (seemingly) uncharted photography locations. Using Google Maps, I scouted up and down the coast searching for interesting features until I found this rock shelf. It seemed quite a large expanse worthy of a bit of investigation. I drove there one morning and took a couple of shots from above in order to guage its beauty.
This place is a wonder indeed. Another positive for this location is more often that not, there is not another soul around. Therefore its just you and nature – what else could you ask for?
Special Photographic Features or Notes
Getting down to this location is certainly not for a person who is afraid of heights. The trail down is commonly known as a "Fishermans Trail". It is quite well worn but it is quite a narrow walk along broken shale and rocks that zig zags down the edge of the cliff. By no means is it unsafe but caution is certainly recommended. Once down, there are many locations along the large rock shelf to obtain a capture or two. The shelf itself is approximately 900m from the South Headland to the North (Pictured in the photo above). One thing that has to be said about this location is its sheer rugged beauty. It combines numerous elements from either end of the scale that Mother Earth has to offer.
Below the Fishermans Trail
Directly at the bottom of the trail down, is the main and largest part of the shelf. It contains a number of smaller shelves and drop offs that catures the light at all times of the day. If you manage to get there at a mid tide of around 1m, the shelf should have a perfect amount of still water that allows for some great reflection shots.
Apart from reflections, there are a number of smaller gullys that fill up with water and trail out to the sea. The close up motion of these channels are definitely a great option for a capture.
Heading North
The North end has a number of large gullys and indents into the shelf that allow for great rushing shots. Most of these gullys also have large rock placements near or beside them, that allow you to position yourself upon. Beware though, there are also a number of large rocks pools to north end that become invisble during the dark or predawn light. Once can find themselves saturated if not careful.
The Rock Dice
Around the top of the north cliffs are a marvellous set of fallen boulders. The outlook of this location is a must to go visit. Even if you don't decide to take any photos, the walk is simply breathtaking. Getting to the location involves a nice clamber across many a rock, but whoever said that one cannot combine exercise with photography. Surely you would agree that half the satisfaction of a good shot, is the degree of difficulty that you undertook in order to get it. The main fallen boulders have fallen is such a way that they look like 2 dice placed with care.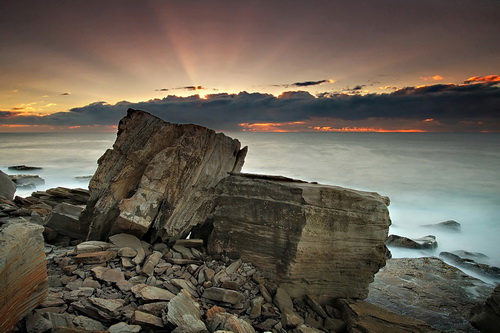 South End
The Sound end is full of textured rocks and contours. The walk around there is much the same as the North, but once you get to the end, there is a worn trail along the base of the cliff which is very easy to navigate. The shelf at this end has many different levels to it which can allow you to take shots at either low or mid tide.
Night Photography
I haven't taken the opportunity to shoot any night photography at this location. I would recommend it be visited with caution due to the trail down combined with the hidden rock pools. However, once you have been there a few times, you should work out where to go. The South end would definitley be the pick for night shots as it more exposed with better angles.
Special Equipment
There are a few bits of special equipment I would recommend for Bangalley.
Rock hopping sandals with an enclosed toe.  Because of the water flowing over and sitting on the rock shelf, YOU WILL GET WET FEET…It's pretty much unavoidable if you want to get the good shots.
Headlamp.  If you are scaling the cliffs to the rock shelf before sunrise, I would advise taking a headlamp or torch as the trail will be in darkness. The light will also become a great friend to you as clamber over the rocks to get to your location
Grad ND filters.  The rock shelf faces due East, so if you are shooting sunrise, bring your normal kit of grad NDs.
Extra lens cleaning cloths – Salt spray can be problem on your lens element
WARNING – This location should definitely be visited on the more calmer days. During times of heavy sea swells, its not a place to visit. The shelf does take a pounding due to how low it is and one could easily be swept off the shelf if not careful. As always , it should be said "NEVER TAKE YOUR EYES OFF THE SEA"
Best Time of The Day
Pre-dawn and sunrise of course.  However sunset and night is also lovely.
Tidal Information
Bangalley is definitely a mid to low tide location. During times of high tides, there is too much movement of water on the shelf and this will not entice you to get out and explore it. As mentioned above, during times of rough seas, the tides become irrelevant to Bangalley ie Don't bother going. Its a very exposed low rock shelf that does take a lot of punishment from the ocean.
Wind Information
Bangalley is a fairly exposed location due to its length. However it does have quite a bit of protection from the North and South headlands and due to its sucken locaiton, Southerly and Northely's are not much of a problem. The Winds coming in from the east can cause you quite a bit of pain in terms of Spray so come armed with a cloth and lens cleaner. Westerly winds are not a problem at all to Bangalley.
Getting There
Click here to see this location in Google Maps
Bangalley Headland is north of Avalon Beach. Continue on Barrenjoey Road for about 1 km after Avalon Beach and turn right into North Avalon Road. This road starts to head upwards and will have a sharp dogleg to the right. The road now changes to Marine Parade – Park Here. The start of the walking track is at this junction and is sign posted on the left. After you walk approxmitely 100 meters along this track, you get to the headland. As a matter of interest there is also a nice walking track along the top of the headland that gives you incredible views over the water. At the end of the track, you need to keep walking straight ahead as if you about to jumb off the edge but don't worry too much as the trail starts here and is quite visible. Please take care when going to this location and I would recommend going with someone who has been here before. If nothing else, take a friend on your first trip.