The Newcastle coastline is an area in NSW that is packed with photographic gems. One of those gems is Merewether Baths. Not much to look at, at a quick glance but a location that when the tides and light is right it really stands out from the crowd.
Special Photographic Features:
The main feature of Merewether baths is the numbered blocks at each end of the swimming pool (as seen above). The composition aspects are numerous and only limited by your imagination.
If the lighting is right you can shoot back onto the main Surf Life Saving Club.
Best time of the day:
This location works well on both sunrise and sunset. On a clear sky sunset the magenta / cyan hues in the sky make for a picture perfect setting in contrast with the white blocks. The image below was take on one of my Newcastle Day Photography Courses in the late afternoon.
Tidal information:
Personally I find this location is best shot on high tide as the swell and waves crash into the backs of the blocks giving a sense of movement and fast wave capture. The high tide will also overflow the baths with the water escaping over the sides. Again giving you more options for composition.
Getting there:
The baths are accessed via Henderson Pde. Parking is quite easy to find and is free for two hours. Click to see link to map.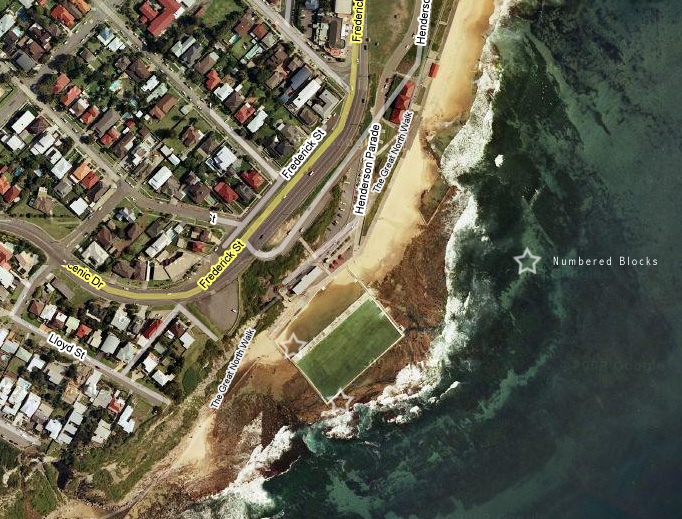 Merewether Baths is a public swimming area and photographers are wise to keep this in mind when shooting in the area of peoples privacy if they are in your shots. If approached by a person asking what you are shooting always be polite and offer them to view the images you have captured.