The Three Sisters ('Meehni', 'Wimlah' and Gunnedoo') are 922, 918 & 906 metres tall, respectively. That's over 3000 feet above sea level!
The Legend
The Aboriginal dream-time legend has it that three sisters, 'Meehni', 'Wimlah' and Gunnedoo' lived in the Jamison Valley as members of the Katoomba tribe. These beautiful young ladies had fallen in love with three brothers from the Nepean tribe, yet tribal law forbade them to marry. The brothers were not happy to accept this law and so decided to use force to capture the three sisters causing a major tribal battle. As the lives of the three sisters were seriously in danger, a witchdoctor from the Katoomba tribe took it upon himself to turn the three sisters into stone to protect them from any harm. While he had intended to reverse the spell when the battle was over, the witchdoctor himself was killed. As only he could reverse the spell to  return the ladies to their former beauty, the sisters remain in their magnificent rock formation as a reminder of this battle for generations to come.
Special Photographic Features or Notes.
The main feature of this area is the spectacular views of the three sisters and the Jamison Valley as members of the Katoomba tribe.

SunSet – just stunning
I found the best location is to go downstairs, easier to land your tripod without people at your front. It is east side to you, but it is hard to capture the sunrise (to me), and sometime the area is foggy in the morning. However, sunset is always lovely.

Morning may be difficuilt to take photo due to the fog, make sure you check the weather first.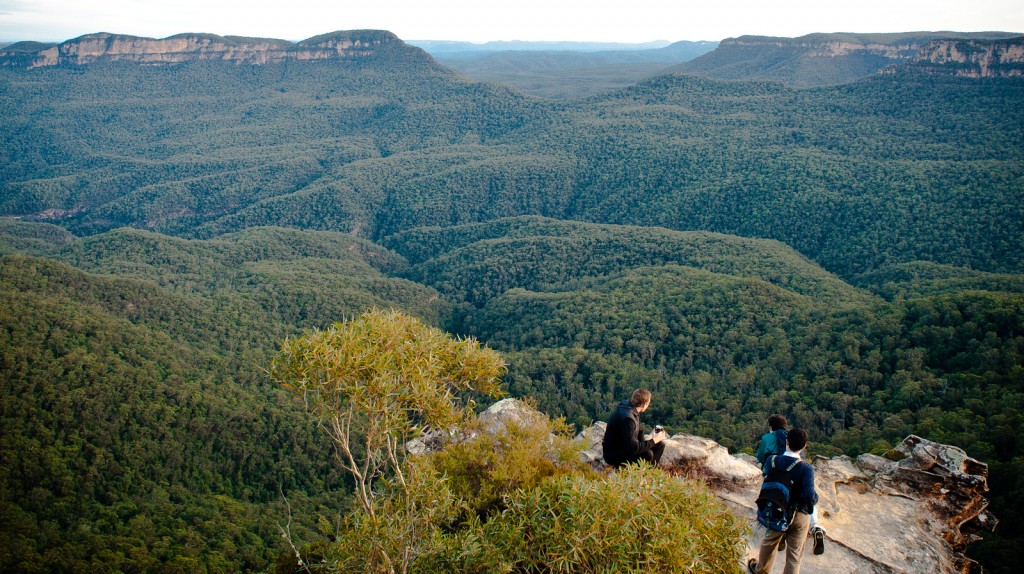 If you follow the green line in my map, it will bring you to a lookout with fanatic view. These guys climb out the fences, very danger and not recommended. You should be able to land your tripod on the platform just above this, and near the stair.
Night Photography
You can come take photo of three sister at night, it is floodlit at night by a few powerful orange spot light. However, there is no light on the walk path, so bring a touch.
Special Equipment
Lens, wide angle. Three sister is quiet far, so 35mm-50mm (full frame), pack with ultra wide if you want to get a full view.
Tripod
ND filter
Bug spray if you decide to walk into the lookout.
Best Time of The Day
Magic hours, Sunrise, Sunset. depending on the weather. May be foggy in morning.
Getting there
Google Map
I drive and park at Echo point road or Cliff drive.
Useful Links.