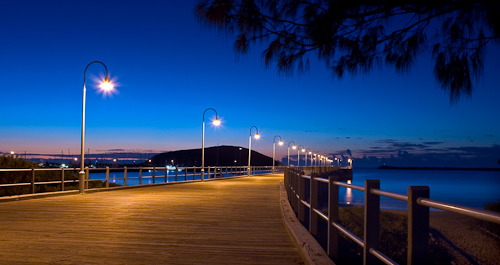 Coffs Harbour is located some 540 kms north of Sydney on the Mid North Coast of NSW. The area is well know for its beaches, the nearby Solitary Islands Marine Park and of course the Big Bannana.
The Jetty is located in a central part of the town and nearby attraction include the Marina and Muttonbird Island. It juts out from the aptly named Jetty beach and points to the sea between Muttonbird Island and the southern breakwall running from Corambirra Point.
The Heritage protected jetty was built around 1892 when it was the focal point for timber shipment out of the region from the surrounding hinterland.
Nearby to the Jetty is some residential redevelopments and a thriving cafe/restaurant strip. Great for those warm cups of coffee after a sunrise shoot!
Special Photographic Features or Notes
At New Years eve there is a local fireworks display whichs runs from the end of the Jetty and Barges anchored offshore. Get there early and stake out a good spot!