Sydney's beaches are some of the most beautiful in the country, but in fact Maroubra is certainly one of the most amazing ones and a more natural alternative to busy Bondi and tiny Tama 🙂
I would like to talk about a particular feature that is North of Maroubra and easy to miss unless you read this guide: Mahon Pool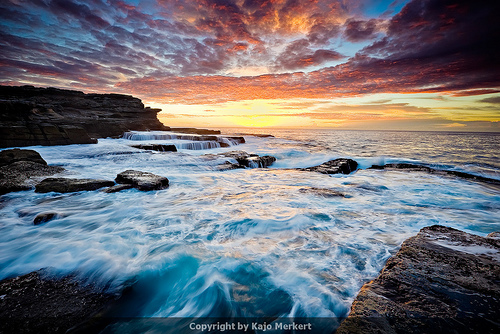 Special Photographic Features or Notes
There are two things you can capture at Mahon Pool. The pool itself or the fantastic rock stairs just  to the North of it.
The Pool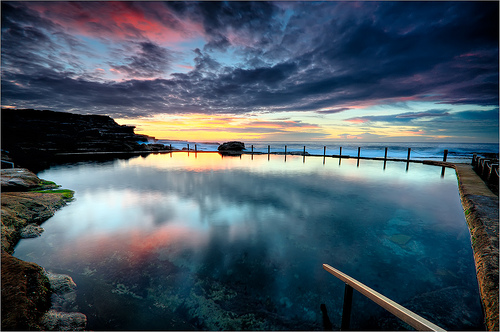 This huge pool offers great reflections and is framed by the fence that goes around the outer side of the pool. Some people may find the rail, that leads down to the pool a bit of an eyesore, but it is an easy clone fix in Photoshop, if you wish. A classic composition is to shoot it from high above, close to the car park, to take in the whole of the pool as well as the surrounding cliff faces and the ocean. Alternatively, as you can see in the above shot a low shot from the south-east corner of the pool offers great sunrise reflections on the water.
The rock stairs
Depending on the tide, you can get lovely waterfall shots from those stairs to the north. You need to be careful, because the water easily runs over the relatively low rocks where you will probably take position and a mid-range lens may be suitable for this job in order for you to return home with dry socks. Otherwise I highly suggest to take advantage of one distinct rock that peeks out just behind the pool at it's north-east corner (visible in the 2nd shot).
Setup your gear there and you will stay dry, guaranteed 🙂
Special Equipment
Just the usual stuff, a towel and/or lens cloths are a good idea. There are bath rooms next to the pool just a few steps away from the car park as well as a shower, where you can rinse off your gear.
Best Time of The Day
Sunrise or a particularly gloomy day. Stormy conditions with waves crushing into the pool would be a great option too.
Tidal Information
Do not shoot this area at low tide, as the water will hardly go over any of the lovely rocks. I would say mid-high tide would be perfect. If you go at high tide, make sure you are in an elevated spot, as the water comes all the way up to the pool.
Wind Information
You are sheltered from the Northerlies, but very exposed to Easterlies, so bring a few dry lens cloths if it's windy.
Getting there
Click here to see this location in Google Maps

Make sure you check out more of my photos from this beautiful spot on my website Kajo Photography