Hopetoun Falls are located about five kilometres east of Beech Forest, Victoria, Australia, about 30 minutes off the Great Ocean Road in between Apollo Bay and Port Campbell. Photography has taken me to many places, but not many as beautiful as Hopetoun Falls. It seems as if the place was created with Photographers in mind, stunning falls framed with stunning lush green scenery with the Aire River giving the photographer the perfect leading lines and foreground interest.


Photograph by Tim Wrate
Special Photographic Features or Notes
When you drive into the small car park a  small viewing platform offers a view of the roaring water as it crashes down the escarpment into the Aire River. Alternatively take a 30-minute return moderate walk down to the falls. The path is steep to the valley floor down some man-made stairs where it passes through a glade of tree ferns to the foot of the falls. The Aire Valley is a short distance south, offering a beautiful area with a backdrop of towering Californian Redwoods. At the valley floor there is a raised walkway to the base of the falls where there is a small platform on the edge of the river.
You'll find that getting off the boardwalk will pay dividends and you may have to roll up the trousers and get your feet wet to find interesting and rewarding compositions. All the images I took I was either knee deep in cold water, perched on slippery moss covered rocks or had mud between my toes standing on the river bank. Whatever your composition, be mindful you are in a national park to be careful not to trample vegetation etc.
The Aire River down stream of the falls proper has many moss-covered rocks dotted in the river which create cascades and white water which make for interesting foreground options. Here, you are only limited by your imagination. There are lush green ferns, fallen trees and white water everywhere you look.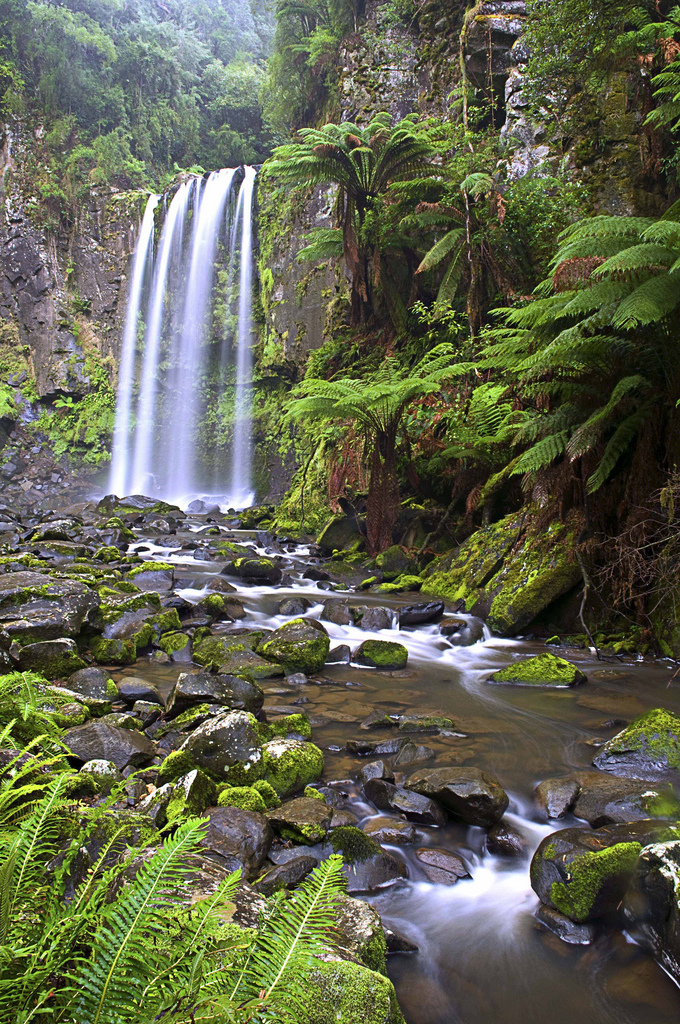 Photograph by Tim Wrate
Photographing Waterfalls
If your choice is for a long exposure to create the silky effect in the water, then the exposure time should be at least 1/4 second or longer. Normally this will mean using a small aperture (f16 – f22), by doing this you achieve two goals. One, it allows for slower speed settings making the waterfalls look silky, and two, you get as much depth of field as possible, there by allowing the maximum amount of focus – depth of  in your composition.
Use a polarising filter, a polarising filter will help cut down the glare on the water and saturate the green forestry that frames Hopetoun Falls. Obviously, circular polarising filters such as Cokin and Lee are best.
What makes photographing waterfalls tricky no matter which approach you choose, whether using short or long exposure times, is getting the proper exposure. The beauty of digital photography is trial and error. Keep shooting until you get a desirable histogram.
Use a sturdy tripod. Some of the shots I took at Hopetoun Falls were anywhere up to 8 seconds. So make sure you have your camera mounted on a trusty and sturdy tripod.
Weather is a key consideration: the quality of light is perhaps the most important of all considerations when photographing waterfalls. As a general rule, I photograph waterfalls that are in the woods only on overcast or even rainy days where the light is diffused rather than direct. Here I use a slow shutter speed and a small aperture. Additionally, remember if your using slower shutter speeds, then wind will blur ferns and foliage. So be mindful as with cloud often comes wind, so ideally shoot on calm days.
In overcast conditions, be mindful that this will alter your colour temperature, so alterations in photoshop may be necessary (or use your camera's 'shade' feature on the white balance menu).
Early morning is best, as you are more likely to have the falls shrouded in mist and the light is less direct that high noon (even under an overcast sky).

Photograph by Tim Wrate
Best Time of The Day
The best time of day to shoot Hopetoun Falls would be early morning as you may find that there is a fine mist covering the valley. Also, please note that Hopetoun Falls are best shot under overcast conditions.
Night Photography
Shooting Hoptoun Falls is not suited to Night Photography, although early morning and late afternoon will be the best times to shoot.
Wind Information
Although Hopetoun Falls lies within the Aire Valley, it is best to shoot when there is little wind as you will be shooting longer exposures the foliage in the surrounding rainforest will blur under high wind.
Getting there
The falls themselves are an easy 20 minute drive from the Great Ocean Road (turn off at Laver's Hill), located near a small village called Beech Forest. The falls themselves are well signposted from the turn-off at Laver's Hill.
The road is unsealed in parts from Beech Forest, but the 3.5km drive is easily done in a sedan car. Beechforest itself is an easly 60 minute from from Port Campbell or 45 minutes from Apollo Bay.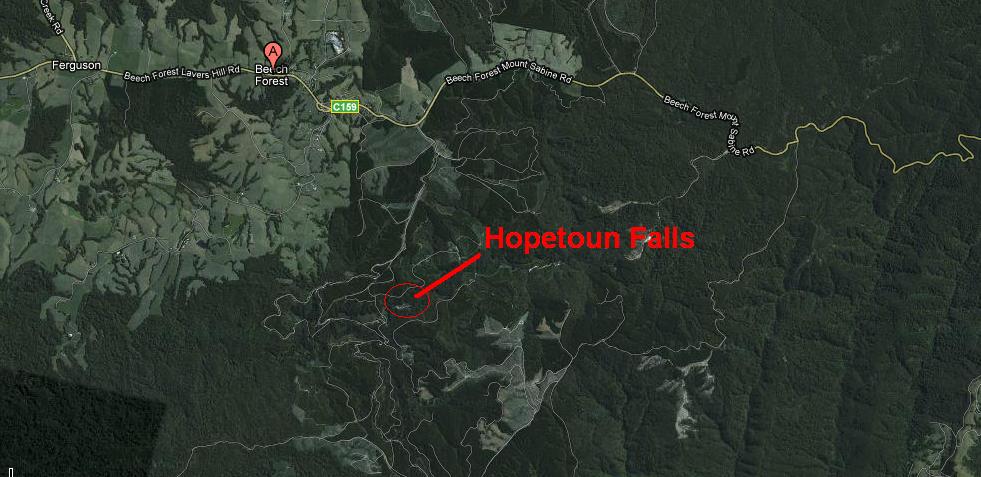 I've created a placeholder on google maps. You can check it out on google maps here.


Photograph by Tim Wrate
It is rare as a landscape photographer that you find yourself in the perfect place at the perfect time with the perfect conditions. I was luck enough to have this opportunity at Hopetoun Falls.