The NSW South Coast from Sydney to Eden is a beautiful area.
Less than an hour south of Sydney is the Minnamurra Rainforest and Falls. A beautiful board-walk through a rain-forest with an additional walk to the Minnamurra Falls.  There are some good photo opportunities with the lush green growth of the rain-forest trees and creepers.
Directions from Sydney and Wollongong
Drive South from Sydney towards Wollongong.
Continue South past Wollongong on the expressway.
At the end of the expressway, just before Albion Park, there is a roundabout.
At the roundabout take the 2nd exit onto the Illawarra Highway.
Continue on Terry Street – go through two roundabouts.
Continue on Jamberoo Road for just over 6 kms.
Turn right onto Jamberoo Mountain Road.
Drive 1.3kms then turn right onto Minnamurra Falls Road.
The Rainforest is at the end of the road – about 4kms drive.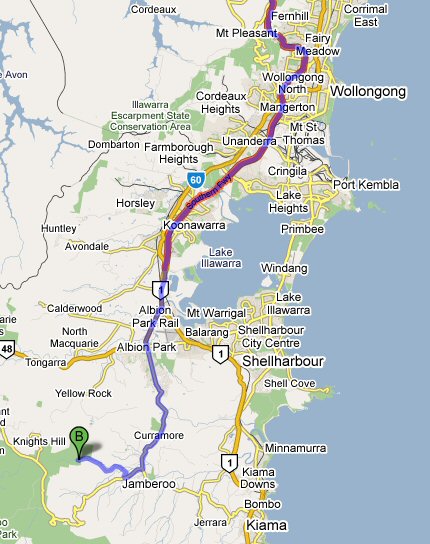 Directions from Kiama and the South
Take the Princes Highway north towards Kiama.
Continue on the Kiama bypass.
Towards the end of the by-pass take the left-turn sign-posted to Jamberoo and follow the signs to Jamberoo.
Pass through the small town of Jamberoo and at the end turn right onto Churchill Street.
Drive 1km and turn left onto Jamberoo Mountain Road.
Drive 1,3km then turn right onto Minnamurra Falls Road.
The Rainforest is at the end of the road – about 4kms drive.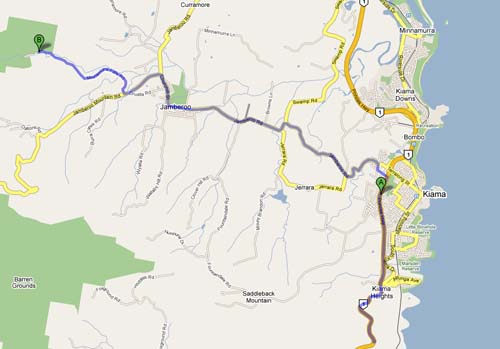 Minnamurra Rainforest and Falls
There is plenty of information on the Rainforest and the Waterfallon the Internet, here and here and here.
The red 'X'marks the end of the road where you will find the Rainforest and the Falls.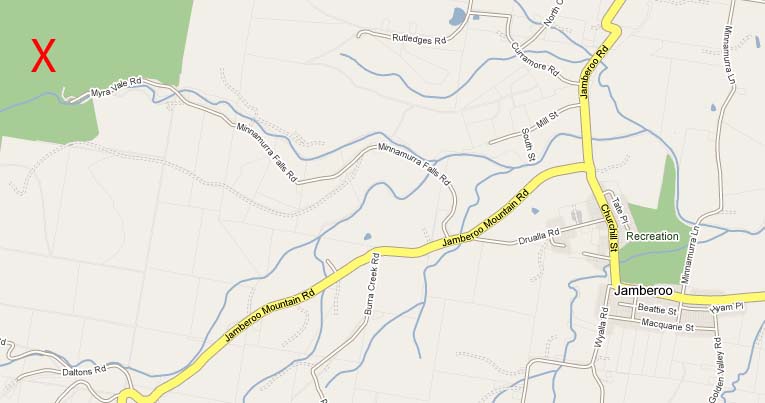 Photography
The dense rain-forest viewed from the raised walkways provides many lush green images.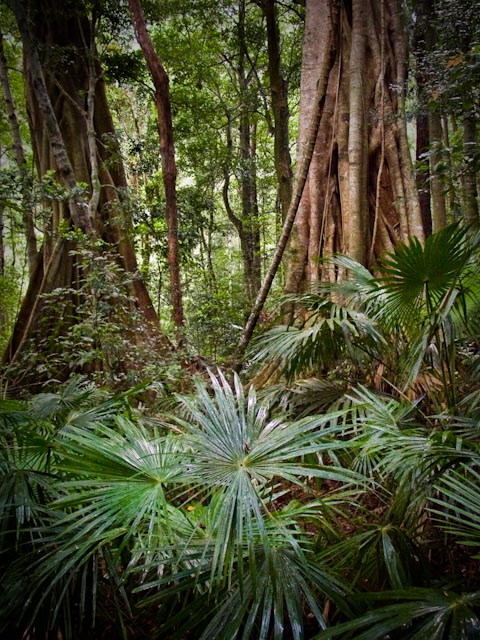 The Waterfall
I have visited the rainforest several times but haven't yet been to the Falls.  I hope to do that on my next trip to the area and I will add a photo and some details.
Times of Day
Minnamurra Rainforest is open between 9am and 5pm so there are no options for dawn or dusk shoots.  However I don't feel there would be much to gain in a rainforest at these early or late times of the day.
Weather
Bright sunlight creates shafts of light in rainforests penetrating from gaps in the top cover of the forest.  This can create very difficult conditions for photography.  I think the better days for photographing any rainforest are overcast days.  The shots above were all taken on an overcast rainy day.
Nevertheless, the rainforest can be a very pleasant cooler place to go on a hot summers day.