The NSW South Coast from Sydney to Eden is a beautiful area.  Saddleback Mountain is part of the escarpment at the back of Kiama; a wonderful drive up the escarpment at the back of Kiama.  It's easy to access around 45 minutes drive on the Princes Highway from the southern suburbs of Sydney, around Heathcote.
Directions
Leave the centre of Kiama going south along Manning Road. After roughly 1km the road makes an S-bend; turn right but then go straight ahead on Saddleback Mountain Road. Climb higher and higher on this road enjoying many vistas to the North, East and South. There is a look-out at the top but I think the views along the way are better than the lookout both for general enjoyment and for good photo opportunities.  From the top you can turn right into Fountaindale Road and follow the road all the way down to a T-junction at Jamberoo Road where you can either turn right to go back to the Princes Highway and Kiama or turn left to go to the small township of Jamberoo.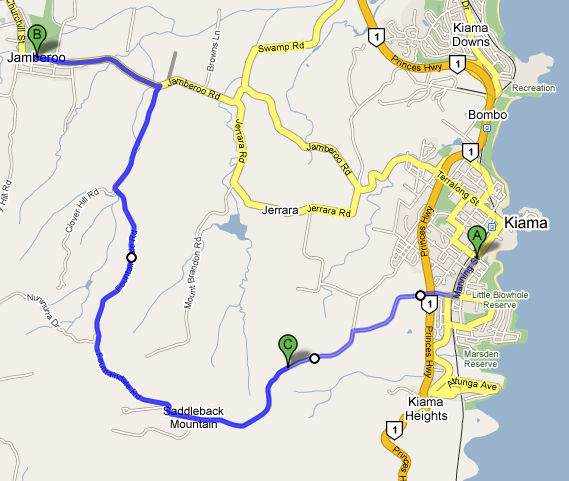 The views of the rain-forest and distant ocean are magnificent. This shot was taken from where the 'C' is on the map above.
Saddleback Mountain is one of my favourite short drives in Australia.  I recommend it with or without a camera in your hand.