The NSW South Coast from Sydney to Eden is a beautiful area.  Kiama is an easy to access part of this coastline around 45 minutes drive on the Princes Highway from the southern suburbs of Sydney, around Heathcote.  Kiama can also be reached by train from Sydney's Central Station.
There are several great photographic opportunities in the Kiama area and this guide is intended to briefly cover one rocky beach area in North Kiama.  Others may like to add detail to the areas I've described or add new areas;  I do not live in Kiama so there may well be other great photo opportunities not covered here.
Location
The beach is accessed from Cliff Drive, North Kiama.  The map below shows its location relative to Kiama.  The North Kiama beach is marked with a 'B'.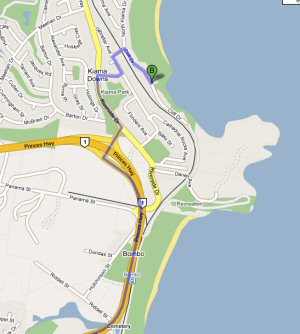 Here's a map with more detail :-

Directions
Drive along the Princes Highway either south from Sydney or north from Kiama.
Take the Old Princes Highway exit and turn onto the ramp towards Riverside Drive.
Turn left at Riverside Drive.
Turn right at Iluka Crescent.
Turn left at North Kiama Drive.
Turn right to stay on North Kiama Drive.
Immediately after you cross the railway bridge turn right onto Cliff Drive.
Parking
Along Cliff Drive there is a break in the housing and an easy grass pathway down to the beach.  The red 'X' on the map is the spot to aim for.
Low Tide
Low tide is probably gives you more opportunities to get around the many rocks.


Sunrise
Sunrise is a good time to get some dramatic shots.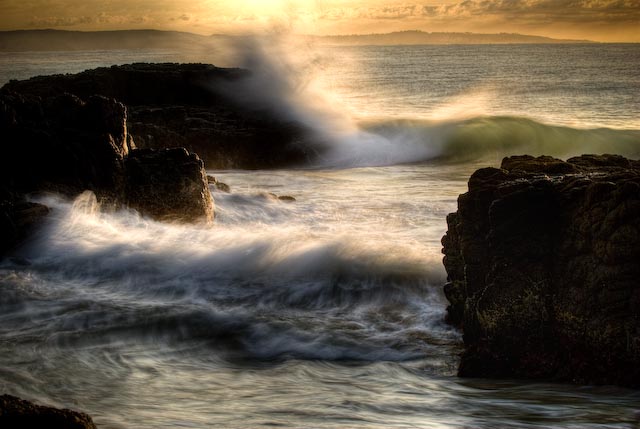 Surf
There is often some dramatic surf to include in your shots.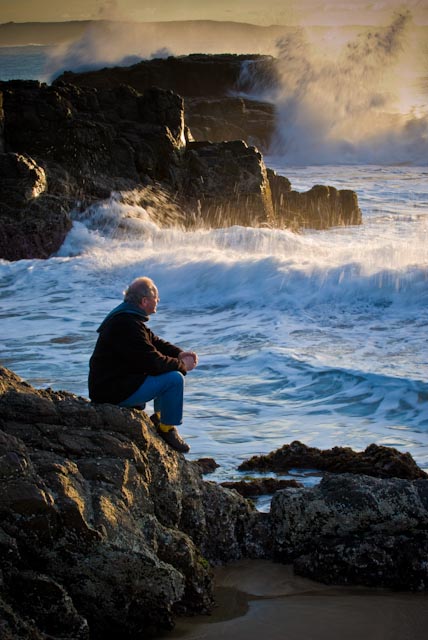 The person in the shot above is the portrait photographer Anthony Browell.  I took a weekend Portraiture Workshop with Anthony and Richard White at Kiama.  Both are great photographers.  Anthony's work can be seen here and Richard's is here.
Reflections at Low Tide
At low tide there are often beautiful reflections of the sky and clouds in shallow water.
Equipment
In addition to your standard camera gear I'd recommend :-
A Tripod – exposures might be long pre-dawn.  In addition, even in daylight I have used exposures around 1/2 second to 1 seconds to get a sense of movement in the waves.
Graduated Neutral Density Filters – personally I find them a pain to use and try multiple exposures and post-processing to fix over-exposed skies.