Ross Jones Memorial Pool By Brent Pearson
There are actually four pools located between Coogee Beach and Maroubra Beach…. Going from North to South they are
The links above will take you to reference sites for each of the pools.  This guide will cover the first two pools.
Special Photographic Features or Notes
Ross Jones Memorial Pool
I have photographed this pool a couple of times… the tides and surf make a huge difference to the types of photographs that you get.  The image at the top was taken before dawn with an absolutely pounding sea… It was hard to get close up shots without getting dunked by waves (in fact my old man took a direct hit while framing up a shot… soaked from head to toe… camera included).
The image at the top of the page shows you the water level at a high tide, while the image directly above showes you the pool at a lower tide.
McIvers Baths
If you go for a stroll around the rocks South, you will come to McIvers Baths (Coogee Ladies Baths).  You really need to approach this pool along the rocks from the North or South as the gates are probably locked pre-dawn and it's generally only for ladies… If you do want to photograph this pool (and your not a lady), I suggest you get to it early while it is dark so that you don't cop a complaint.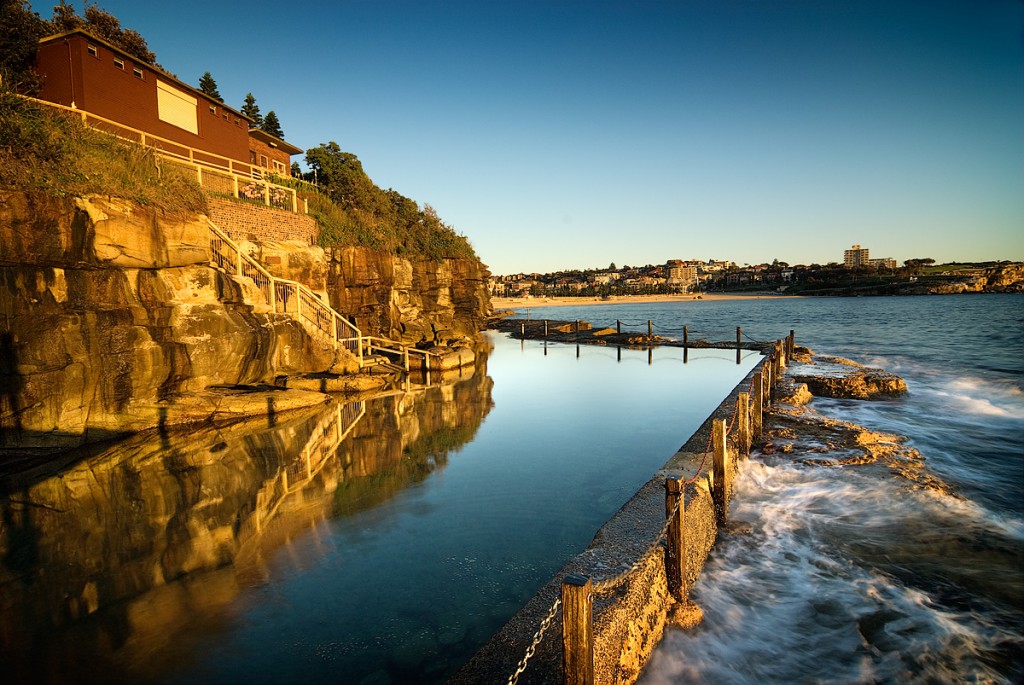 There are nice views looking North & South.  The pool ends up flowing directly into the sea at the Northen end and if the surf is up and it is a high tide, you can get some nice wave action crashing into the still water of the pool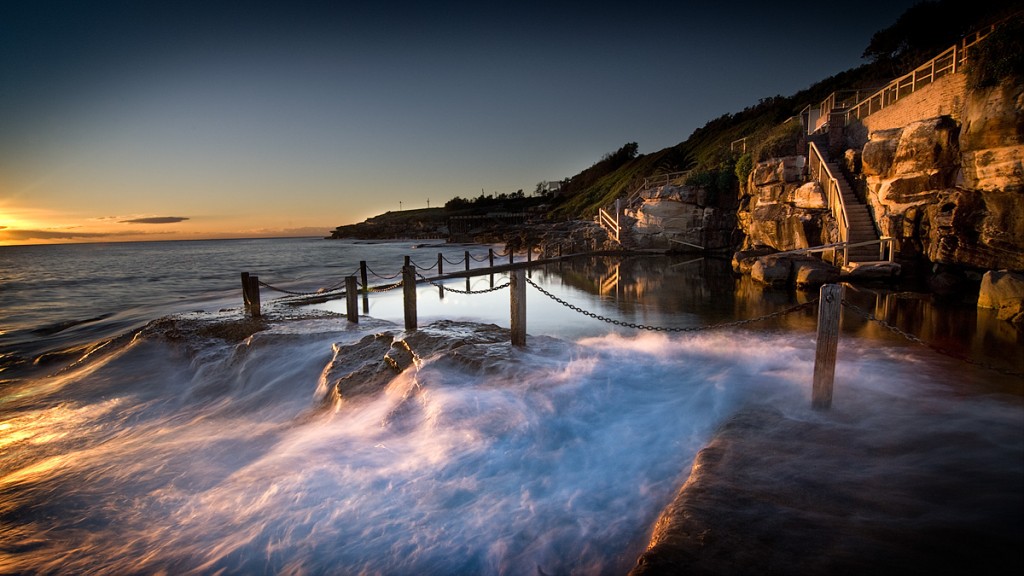 Night Photography
There is definitely some pretty solid lighting hitting the Ross Jones pool, so you will have to deal with all the colour balance issues of artificial lighting.  However while I haven't shot at the ladies pool at night, I don't believe it has any illumination… so this might be a better bet for photographers trying to capture more "natural" night landscape images.
Special Equipment
There are a few bits of special equipment I would recommend for Coogee Pool
Grad ND filters.  The rock shelf faces due East, so if you are shooting sunrise, bring your normal kit of grad NDs.
Extra lens cleaning cloths – Salt spray can be problem on your lens element
Best Time of The Day
Pre-dawn and sunrise of course.
Tidal Information
Both of these pools will give you pretty different results depending on tides and seas.  There is no "best time" to shoot either pool depending on what sort of shots you are after… It is best to have an idea of what type of shots you want to get (still water vs white water etc.) and then check tide and surf reports to see if the conditions are right.
Wind Information
Exposed to the East, so you'll cop it if there are any strong NE winds, Easterly's or Southerly's
Getting there
Click Here to see the location marked on Google Maps
It's pretty easy to find South Coogee, and if you are doing Dawn shooting, you can park anywhere near the Ross Jones pool.  To get to the McIvers Baths you will need to hop along the rocks from either the North or South.