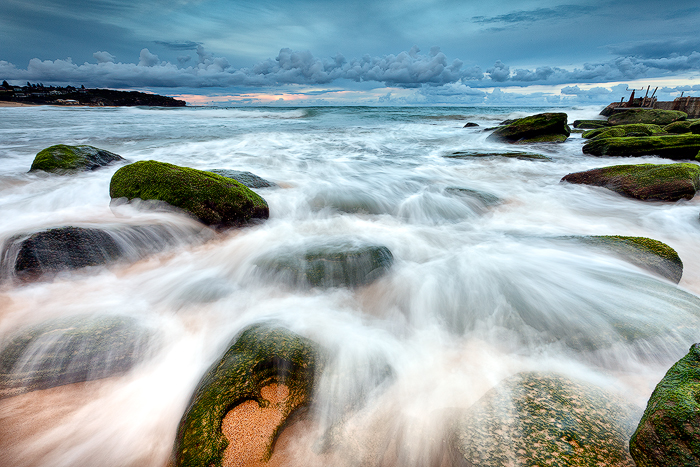 South Curl Curl beach beside rock pool

The less photographed southern end of Curl Curl (aka South Curl Curl) still has plenty to offer with its own rock pool, interesting rock formations, and water flows. All of which can be photographed from sea level on the beach, from near by rocks or a walkway high above.
Special Photographic Features or Notes
South Curl Curl Beach
Beside the rock pool are a number of great rocks to use as foreground (see first two images). Depending on the tide and swell they can be either be fully exposed and green with algae, great for photographing or somewhat submerged by sand and unshootable. To my knowledge there isn't anyway easy way to predict if they will be covered or not so you will just have to visit and see.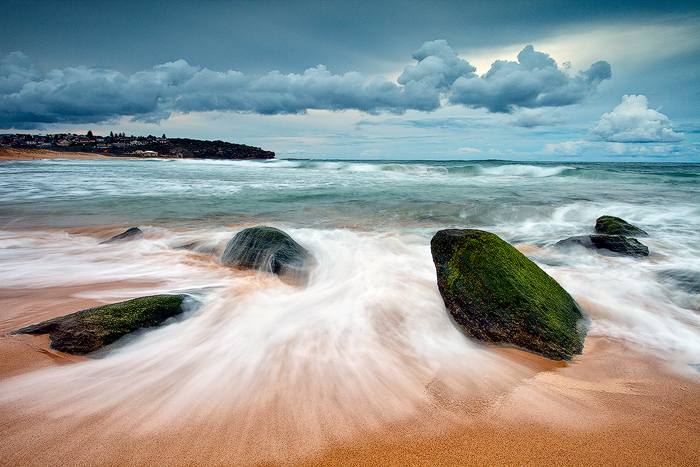 South Curl Curl beach beside rock pool
South Curl Curl rock pool
The rock pool has several angles from which you can shoot from. A lot of photographers like to use the lines of the railings to lead the eye into the frame, if you choose to shoot this composition you may want to consider the number of swimmers that will be around. This pool is used throughout the year and will have swimmers in there. A long exposure will blur most of them out if they are unimportant to the image.
South Curl Curl gets smashed by some big waves, it great watching the big sets rolling in from the car park above. For the most part they just crash into the far side of the pool and creating great water flow. At low tide and with less swell you can access the back area to photograph.
Also worth a mention are the sodium lights that light the pool through out the night. They will often switch on whilst shooting sunset creating conflicting colour temperatures which can be hard to fix in post. They seem to be on a timer rather than sensor driven by ambient light levels so you may find they are off with enough time to photography at sunrise or have yet to switch on after sunset.


South Curl Curl – sunrise behind the rock pool by Shannon Sakovits
Coastline between South Curl Curl and Freshwater
If the surf isn't too crazy then it is possible to walk along the rocks close to sea level a hundred or so meters from South Curl Curl towards Freshwater. There is an impassible section where you will have to head back up to the safety of the walkway on the headland above. Down on the rocks you will be joining a number of fishermen that seem to constantly fish from here. There are some great water flows along this stretch that can just as easily be shot from the elevated walkway if the surf is too big or you would prefer to stay safe. Just don't fall off the edge.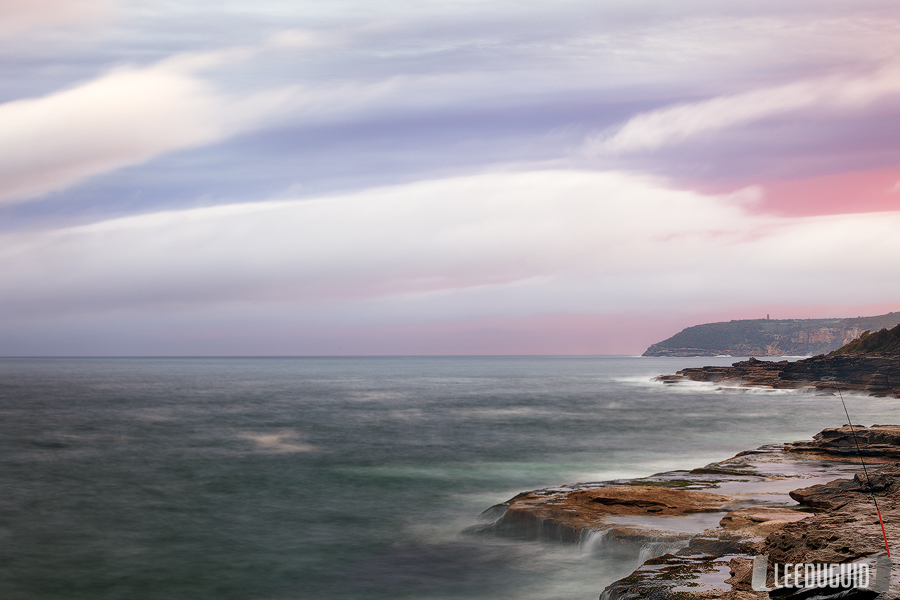 South Curl Curl headland looking South
Night Photography
As the rock pool and South end of the beach is always light by sodium lights at night South Curl Curl is not really suitable for night photography. I suggest heading to the stretch between South Curl Curl and Freshwater or North Curl Curl at night.
Special Equipment
No special equipment other than the standard seascape kit which should include some good shoes with lots of grip (or even cleats).
Best Time of The Day
This location is best to shoot at sunset before the sodium lights have switched on, or after the lights are switched off at sunrise. As the ambient light increases at sunrise it is possible that you won't see the effects of the lights. Similarly the sodium lights are at their weakest when first switched on (before they warm up) and may not be visible.
Tidal Information
As with its Northern counterpart South Curl Curl can be subjected to some massive surf and photographing this location should be only be done with the utmost of care. As mentioned above the back of the rock pool is best shot at low tide if shooting at sea level. Also the tides may dump sand on the rocks at the South end of the beach making the first two images unachievable.
Getting there
South Curl Curl is on Sydney's Northern Beaches, directions can be found on Google Maps. There are two car parking spots both beside each other however both can get full during the day so you may have to park on the street.