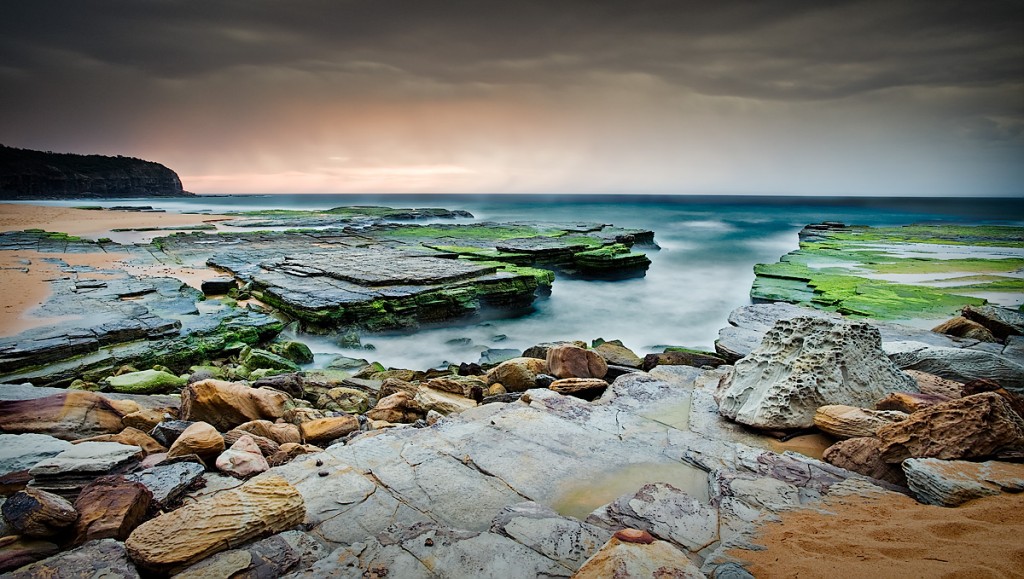 Turimetta is both a hidden jewel and also a popular spot for Sydney seascape enthusiasts.  Located just North of Narrabeen, it's not a beach that you will stumble upon.. you have to know it is there and seek it out to find it.  The beach is remote and secluded and has no surf life saving club or direct road access.  However the beautiful golden sands, unspoilt beauty and lovely slab rocks make Turimetta a favorite with the locals.
Turimetta is located between North Narrabeen and Mona Vale
The Southern part of the beach is probably the most photogenic, with lovely angular rocks stacked up against the ocean.  However there are isolated rocks in the middle of the beach as well.   The Northern end of the beach is also worth wondering around, although the rocks here are quite typical of those found on any Sydney beach.  If the tides are medium to low, it is worth walking around the Southern rock shelf to the photogenic baths of North Narrabeen, this is a short and easy 10 min walk one-way.  Even if the tide comes in over the rock shelf, you can rock-hop across the boulders bordering the cliff to get back.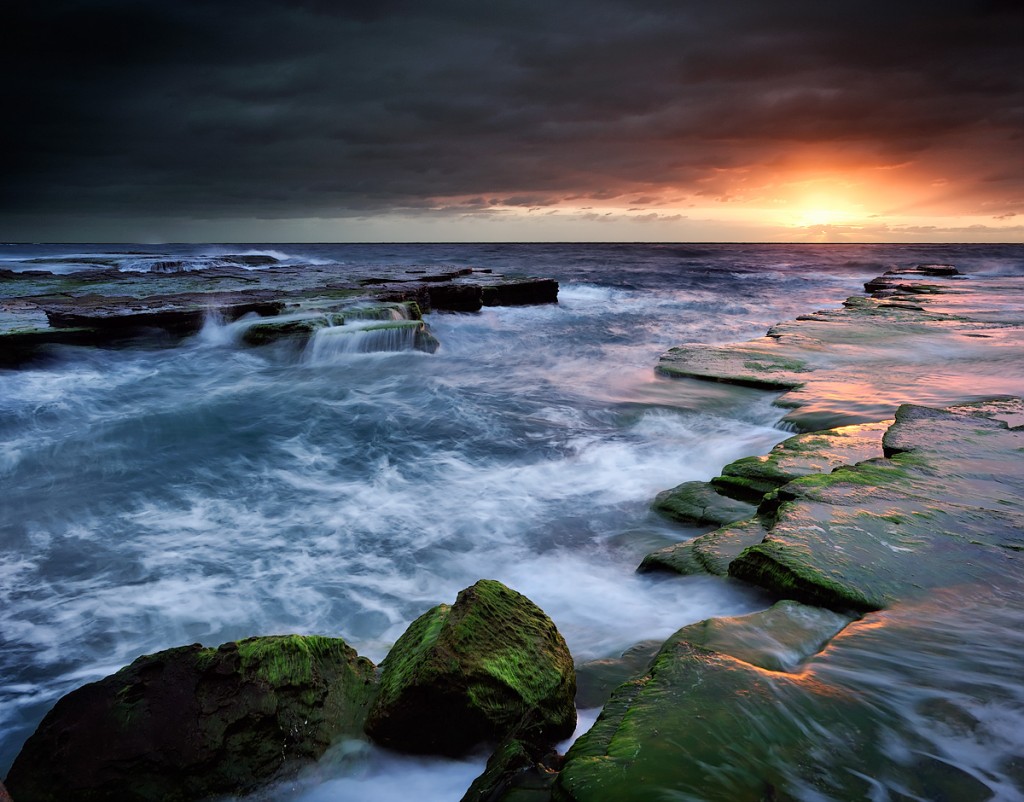 Special Photographic Features or Notes
At certain times of the year Turimetta can be covered in a bright (almost neon) green weed that lasts for just a few weeks.  This tends to be in the Winter months around September or early October.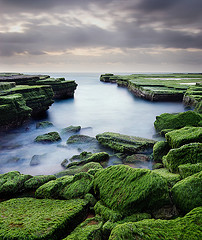 The Changing Sands…
One thing worth noting about Turimetta is that it changes dramatically based on the amount of sand thats thrown up on the Southern end.  My first visit to Turimetta was at a time when a lot of sand had been washed away revealing a gorgeous deep gorge filled with boulders.  As locals quickly informed me this was most unusual and it wasn't long before much of the gorge was filled with sand again.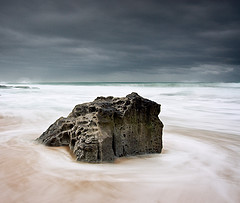 The Rock Faces of Turimetta
There is a pretty unique rock that stands out on the Southern end of the beach.  It is quite photogenic in it's own right, but if you look closely at the rock you will see a number of images carved into it.  A dove, and a weird mans face with the words RIP are carved into the rock.
Night Photography
Turimetta is very sheltered from local light making it great for night landscape photography.  There is no illumination on the beaches or rocks with the exception of some spill lighting from North Narrabeen tidal pool.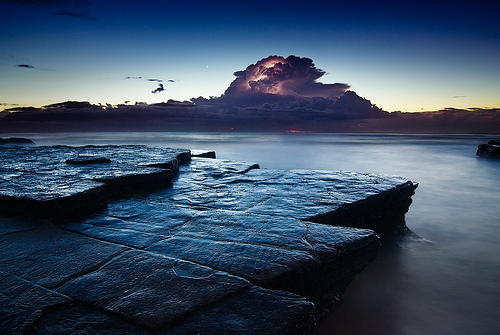 Special Equipment
You don't need anything really special for Turimetta, the beach faces due East, so sunrise photographers would benefit from Grad ND filters and normal ND filters.  If you are walking around the rocks, I recommend good rock sandals with an enclosed toe… that way it doesn't matter if your feet get wet,  your toes are protected and they have reasonable grip ton the rocks.
Best Time of The Day
Pre-dawn and sunrise of course
Tidal Information
Turimetta looks totally different depending on the tides.  Probably the most dramatic rock shots are to be had at low tide.  Tides of about 1m will see waves crashing over the tops of the rocks (including the main rock shelf), while high tides will see the rocks surrounded in water.  You can shoot Turrimetta at any tide and get great shots, however if I were to pick an optimal tide to shoot this location I would say lower tides (< 1m) will give you more shooting options.
Careful of large swells if you are out on the rock shooting on the rock shelves.  I wouldn't really call Turrimetta a dangerous place to shoot, but if your not careful you can get wet feet or a wet camera pretty easily.
Wind Information
Turimetta is very sheltered from Southerly and Westerly winds with the steep cliff faces providing great shelter
Getting there
Click Here to see the location marked on Google Maps
Best place to park is either Pearl Place or Narrabeen Park Parade in North Narrabeen. There is a clearly marked trail leading down to the South Side of the Beach and a separate trail heading down to the North Side of the Beach.  The trail is easy to navigate and does not require any special physical ability.