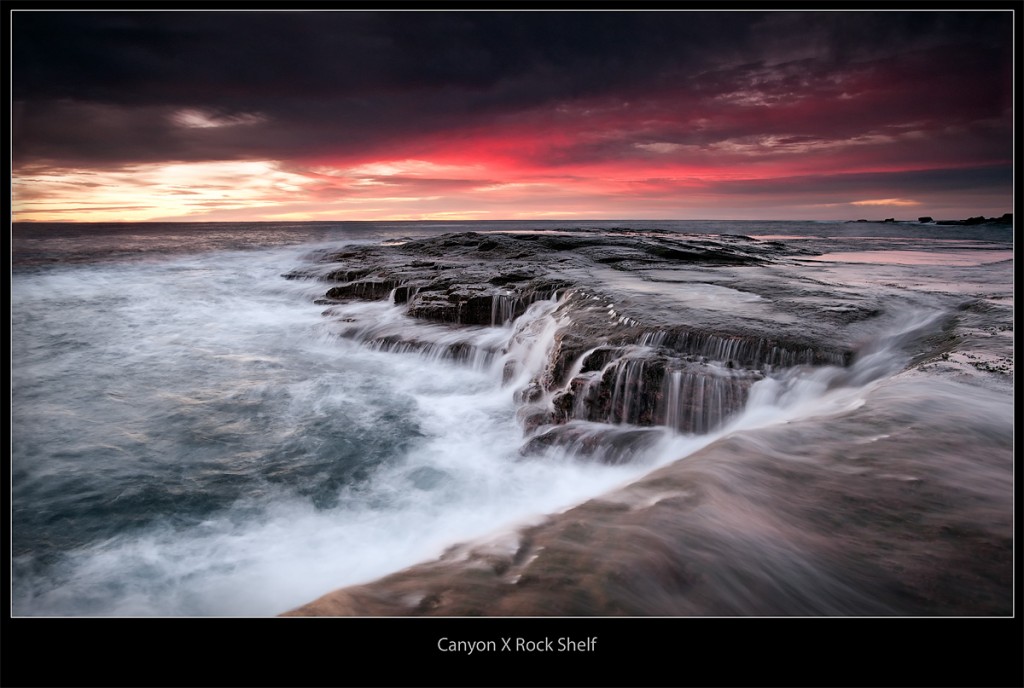 I discovered this place only recently while driving and hiking around some of Sydney's Northern Beaches.  I know that a few others claim to have photographed this place, but I have never seen any photographs of it published before I started visiting it, so in some ways it feels like a new discovery.
Now right up front, let me say that this is not the easiest of places to get to…. so if you like simple walk-in and walk-out locations.  Forget this location… right now.  You will either be faced with a cliff decent down fishermans lines or else a 20 min scramble over large boulders to get here.
I have made two videos of my trips into Canyon X, so if you want to get a real feel for it check these out.
First descent into Canyon X with Gavin and Kajo
Taking Christian Fletcher into Canyon X.
Special Photographic Features or Notes
There are quite a few different parts to Canyon X.
The Blowhole
If you decend down the cliffs (path shown in Blue) then you will be looking at the blowhole.  The blowhole is a fascinating place to photograph because the water movements in and out of the hole are quite mesmerising.
One of the nice things about shooting the Blowhold is that you are quite a long way up from teh water line, so even if it is a pounding surf, you can safely shoot the blowhole without fear of getting wet or hit by a wave.
The Rock Shelf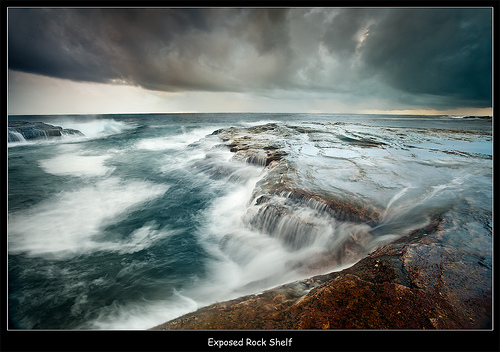 If the tide is relatively low and the surf is relatively calm, you can wonder around out on the main rock shelf.  Two warnings if you plan on doing this….
1) Keep your eye out for the big sets
2) There are some big potholes on this rock shelf.  I saw a rock fisherman who was walking around in knee deep water all of a sudden drop into a pothole that was chest deep!!
Having said that, the water flows off this shelf are absolutely stunning.  As long as the waves aren't crashing over the shelf then you can walk around on it safely as long as you keep your eyes glued to where you are walking.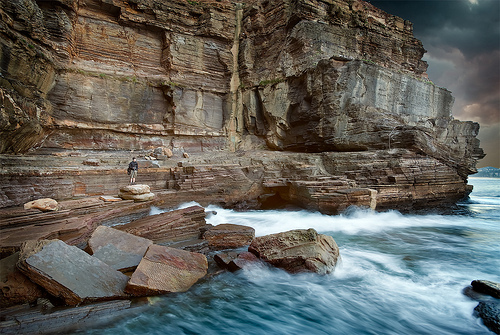 The cliffs that tower over your head are absolutely stunning.  Once the sun pops over the horizon, they illuminate the cliffs in a gorgeous golden light.  If you are out on the rock shelf, there are some nice angles if you look back to the West.
Night Photography
There is no light falling on this location from any nearby lights, so if you wanted to do some night photography this is a good location (as long as you have good headlamps for the trip in and out).
Special Equipment
There are a few bits of special equipment I would recommend for CanyonX.
You will need to sling all your gear.  If you are going to negotiate the fishermans ropes, you will need two hands, so make sure you can put your tripod and all your gear on your back or shoulders so that you have both hands free.
Rock hopping sandals with an enclosed toe.  Because of the water flowing over the rock shelf, YOU WILL GET WET FEET…It's pretty much unavoidable,  so I always wear my rock-hopping sandals here so I'm not worried about water flowing over my ankles etc.
Headlamp.  If you are hiking down the cliff before sunrise, It is absolutely essential that you have a good headlamp and watch where you are walking.  You are decending from a high cliff, and if you walk off that cliff it will be fatal.
Grad ND filters.  The rock shelf faces South East, so if you are shooting sunrise, bring your normal kit of grad NDs.
Extra lens cleaning cloths – Salt spray can be problem on your lens element
Best Time of The Day
Pre-dawn and sunrise of course although it is pretty contrasty.  While I haven't shot this location at dusk I think this would be a great dusk location and the contrast range would be much easier to control at this time of the day.
Tidal Information
If you want to shoot the blowhole, then you can shoot it at any tide… there always seems to be water moving over it.  If you want to get out on to the rock shelf, then you want a low tide and a reasonably low swell.
Wind Information
Because of the high cliffs, once you are down on the rocks it is pretty sheltered, however I would avoid doing the cliff decent if it is high winds.
Getting there
Click Here to see the location marked on Google Maps
There are two ways to get to Canyon X.
1) Down the cliff via the fishermans ropes
or
2) Across the rocks from North Turimetta
1) Down the Cliff track
You want to park in the parking lot (about 6 spaces) in Narrabeen Park Pde near the crest of the hill.  Then you walk down through the park and you will see a sign saying "No Entry" (or something like that).  This is where the fishermans track down the cliff begins.
Keep following the track down the hill and stay to the South and follow the track around the cliff.  You have to be careful as you are walking on a path that has a shear drop off on the left hand side. It is not overly difficult to navigate this path, but you do need to use extreme caution and watch every step you take.
You will then see a rope that connected to a stake that has been driven into the ground. The rope dissappears over what looks like a shear cliff.  It is at this stage that you might be thinking "what the hell am I doing"!!! It does look very scarey.  However it is NOT as bad as it looks.  You need to grab the rope in both hands and lean out a bit and then you will see that it is only about a 9 foot drop and there are very easy foot holds down the cliff.  Just ease out and drop your foot down and then you will find it pretty straight forward.
The path down the cliff from here is pretty straight forward.  There is one more rope to decend that is also pretty easy (about a 6 foot drop) and then you will be down.
I have taken my wife and 8 year old son down this track and they both enjoyed the excitement but had no problem with the decent.
However it is up to you to determine whether this decent is for you.
2) From North Turimetta
If you park at North Turimetta there is an easy path down to the rocks.  You can walk around to Canyon X by negotiating the various rocks.  Just one note… the path to North Turimetta point is pretty straight forward, however from there around to Warriewood blowhole the rocks get bigger and it is more like scrambling rather than walking over the rocks.  Nothing overly technical but definitely not a "walk in the park".
Enjoy your visit to Canyon X….  Be Safe.