The less visited neighbour to Cradle Mountain Lake St-Clair National Park, Walls of Jerusalem offers mostly untouched Tasmanian wilderness. The unique fragile environment of numerous tarns, lakes, conifer forests, cushion plants, and pencil pine tree (featured below) is a high alpine plateau surrounded by a wall of rock resembling (loosely) the walls of Jerusalem.
Walls of Jerusalem National Park Winter wonderland (sunrise looking towards King Davids Peak from Wild Dog Creek campsite)
Special Photographic Features or Notes
The walk starts on the outskirts of the National Park from the far right hand corner of Mersey Forest car park. The entrance to the car park may be too steep and muddy so park you car tight into the side slightly past the entrance. A few meters into the walk there is a registration station and somewhere to sterilise your boots, be sure to do both. The first section of the walk is the hardest considering you have to lug all your gear to the top climbing 500 vertical meters over 2km's. I set off with well over 20kg in gear carrying all my camera equipment, camping gear (tent, sleeping bag, sleep matt, camping stove and fuel), food, three litres of water and clothing. This is pretty hard so best to condition the legs before the trip. Note: Each litre of water weighs 1kg. Carry only what you need. There is plenty of safe drinking water in the national park so no need to carry in more than is necessary (as I did). About 2/3rds of the way up the climb is Trappers Hut a typical old alpine hut. It's a great place to stop for food and water with only a short distance to the top. After 2km of up the climb starts to level out. You are now 4km to Wild Dog Creek. From here on in the scenery starts to get really special with many tarns and lakes (Solomon's Jewels). If time permits I suggest you scope out some locations to shoot at sunrise or sunset along the way. Here's one of the many lakes/tarns you pass on route to the campsite photographed on the second morning.
Note: Branches placed across the pathway indicate no entry. I stupidly stepped over some branches and followed the path the wrong way for a while. Look for arrows made from rocks the path is a bit unclear at some points. If you get stuck track back, or consult your map/compass.
Wild Dog Creek (Campsite)
The campsite has a water tap, many tent platforms and a bush toilet further up the hill. As you are camping on a wooden platform they provide thick steel wires to attach guy ropes to. They are very hard to manoeuvre and frustrating to use but alas you don't really have a choice. In regards to potential photographs this is where I shot the above photo, only a few yards from my tent to the East. I awoke very late and thankfully stumbled across this amazing frozen foreground. On that note temperatures can get very low here, well below zero. Expect the tap and all your water supplies to be frozen. A short walk to the top of the hill also has lots of opportunities for with a small, still and very deep stream as well as a larger lake close by.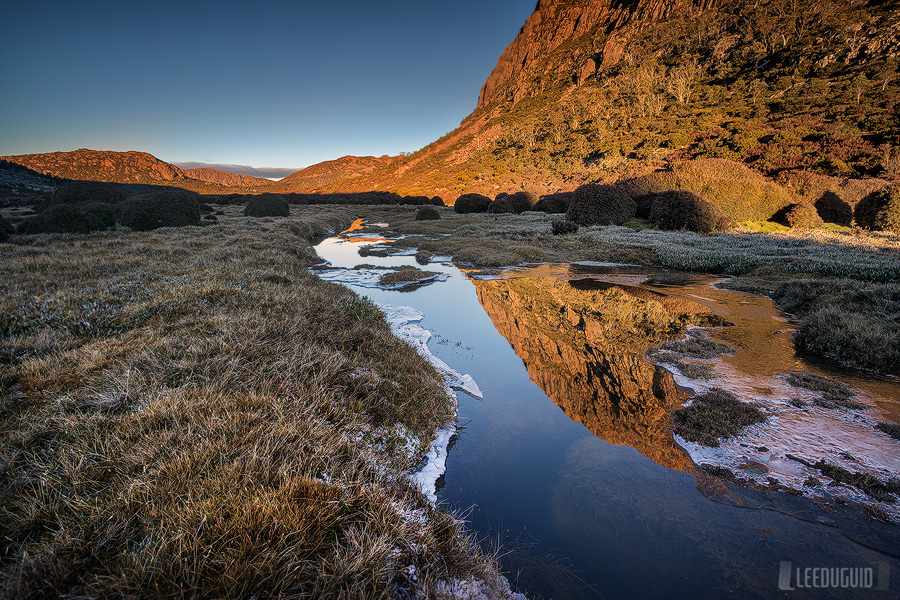 Central Walls
From the top of the hill after the campsite down through to Dixon Kingdoms's Hut (3-4 hours return) you will witness some very unique landscapes. Exploring the area is lots of fun and far less strenuous than the previous days walking. I hiked with all my gear to Dixon Kingdoms's Hut but decided to return back to Wild Dog Creek for the evening as I felt the better photos were to be had around there. Getting lost in this part of the park is pretty difficult, the entire walk is on boardwalks and there aren't many turns.
Night Photography
The park offers a fantastic opportunity for some night photography. Well away from any towns and cities you are guaranteed light pollution free photos. If you are very very lucky you may even see some southern lights. This photo was taken at the Central Walls a short walk from the campsite.
Special Equipment
The weather in this park is know to be very temperamental so even in the summer months prepare for cold temperatures or even snow showers. So with that said bring good hiking boots, waterproofs, warm clothes, and your own cooking gear and fuel. Water is in abundance here and is perfectly safe however you may want to bring water purification tablets just to be on the safe side.
Best Time to Shoot
The weather in this national park seems to vary massively all in one day. I guess any time is good to shoot, just be mindful of the sunset and sunrise times, the weather, and what the moon is doing.
Getting there
There are a few turns enroute to the carpark, hopefully it's quite obvious. I suggest locking in the GPS co-ordinates of the carpark before your phone is out of coverage.
Parks & Wildlife Services have more information here:
Parks & Wildlife – Walls of Jerusalem
Once in the carpark the walk starts at the back of it. You'll follow the trail for a short while before reaching a registration booth. I suggest signing in just to be safe.
Read more about my visit here: Walls of Jerusalem National Park.