DIFFICULTY RATING: Easy to Moderate/Hard depending on where you choose to go.
DESCRIPTION: Over the last few years these have become my favourite falls to shoot. They offer something for everyone with easy access to the top falls through to some lovely falls downstream from the main two. These are more difficult to get to and require a decent amount of fitness depending on how far you'd like to go downstream.
To begin at the top two falls. I think the top fall is best after heavy rain although it is lovely at anytime. The first mono image below shows how spectacular it can be after heavy rain. Further down the track you will come to what is known as the bottom falls. These are lovely at anytime but again I find them to be quite spectacular after or during heavy rain. You can get quite close to them and while it can be tricky to get a shot because of the spray, it is worth it just to go and stand there and take in nature in all its glory. Between these two falls are some nice smaller falls for the more adventurous. They are accessed via a bit of a bush bash but are quite lovely in their own right.
A further 10 minutes scramble downstream from these falls, is what I would consider my favourite fall to visit. The track can be a little difficult to follow but eventually you'll get there. This fall has everything when the conditions are right. Easy platforms to set up on with the added bonus of a cave behind it that you can crawl into form the side and stand up in. This makes it a must visit if you have the right gear. A little further down the stream are some smaller cascades that are also worth visiting. These are quite slippery to walk around so watch your step.
For the adventurous there is another lovely fall 15 mins or so downstream. The track is sketchy at best and generally it's best just to follow the river bank but eventually you'll get there. It's a small fall that tumbles into a large pool with a lovely rockshelf that has a cave on the left. I'm yet to capture it at optimal flow but it again is just a lovely place to go and sit and take in nature. It's one of my happy places 🙂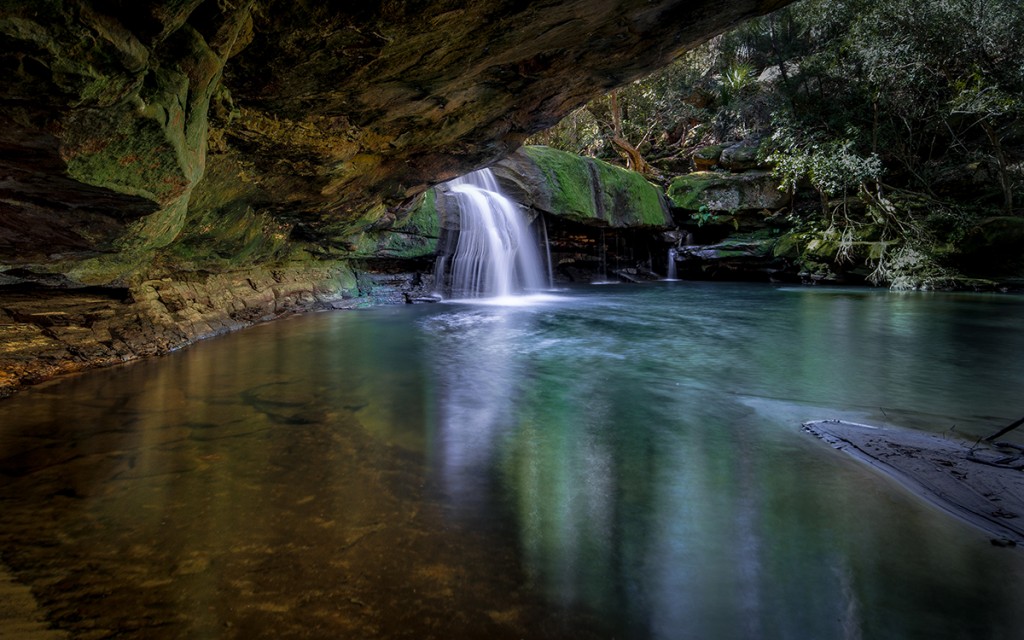 PARKING/GETTING THERE: Somersby Falls is located in the northern section ofBrisbane Water National Park.
From Newcastle and Sydney:
Exit the F3 at the Central Coast Highway towards Gosford
From Gosford:
Take the Central Coast Highway past Kariong
Turn onto Wisemans Ferry Road
Take the second left onto Somersby Falls Road
The parking and picnic area is at the end of Somersby Falls Rd so it is hard to miss. If you are going to park in here I'd advise paying the park usage fee as the rangers visit regularly. You can also park back up in Somersby Falls Rd then make the short walk back down to the falls. I park and pay my fare for using the National Park.
MAP:
TIME OF DAY: I've shot these falls at all times of the day but early morning or late afternoon are always the best. Misty mornings like any falls location are ideal.
SPECIAL CONSIDERATIONS: with their easy access these falls are very popular with the public, especially in summer. The main falls are popular with tourists and the cave fall is often full of locals cooling off under the fall itself. That means go early or late to avoid working around the crowds 🙂
SUGGESTED EQUIPMENT: For anything beyond the main two falls I'd recommend good rockhopping boots. Even then I'd opt for boots at the bottom main fall. Beyond here it can be very slippery and only last tear a fellow tog badly broke his ankle downstream from the cave fall and had to be airlifted out. With the right gear though it is a lovely trek and the rewards are well worth it. A good quality torch is also a wise choice for early mornings or late afternoons.
Camera wise take your usual selections of glass. Wide angles are great for the falls but there are many abstract comps available as well for longer lenses. Depending on the time of day some neutral density grads are essential to get that look you are after in the water. Bring a selection as different timing will give you different results and effects.