This is a cool little rock gorge that I discovered while exploring with my 8 year old son.  It is a bit of a hike along the rocks, but well worth the effort in terms of a spectacular rock feature to photograph.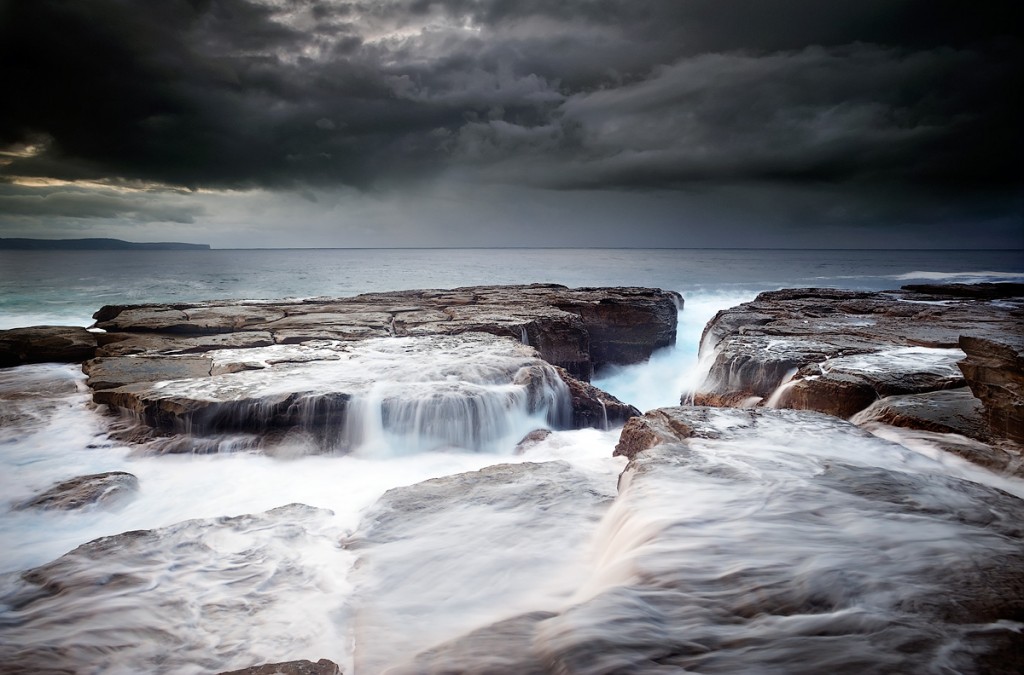 Video of Devils Cauldron
If you would like to see a video that I took of Devils Cauldron, then visit my blog posting (unfortunately I can't embed Vimeo-hosted video on Google's Knols).

You can view the blog posting here.
Special Photographic Features or Notes
There are a few different things to shoot in the area around the Devils Cauldron.  Even when doing the walk down from Whale Beach you will see some lovely rock formations, textures and shelves.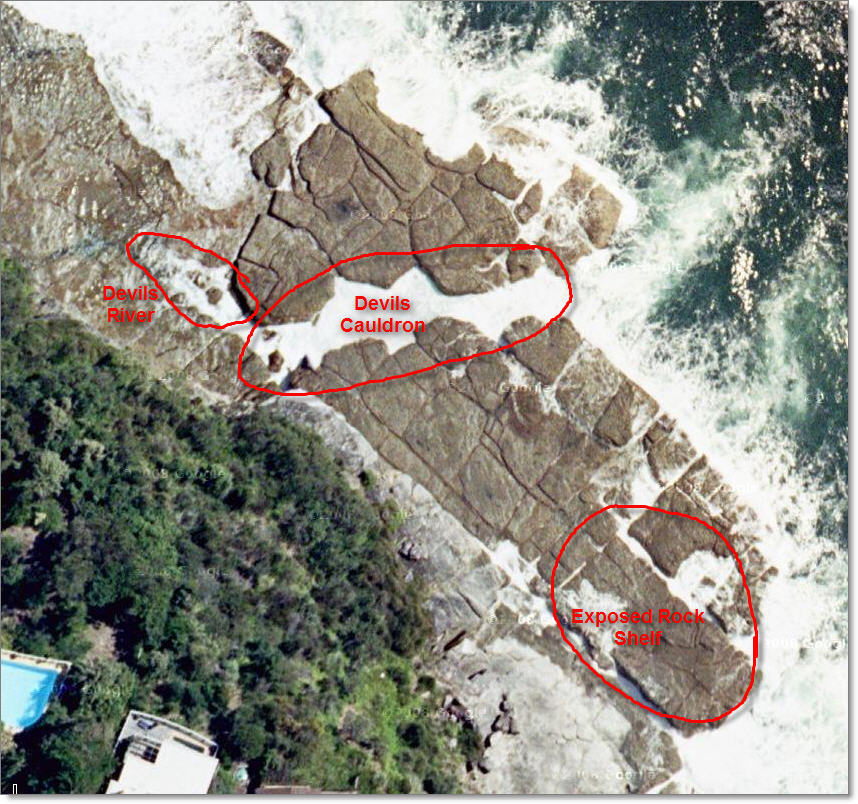 The Devils Cauldron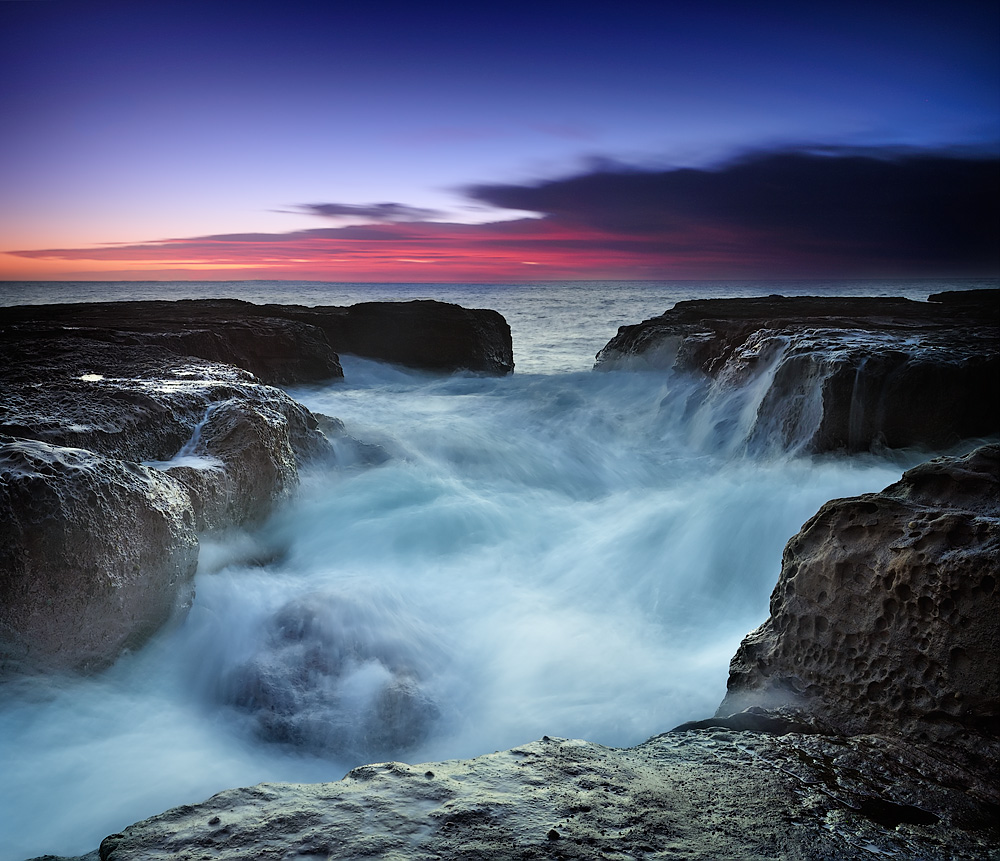 Once you visit this rock formation when there is any kind of swell running you will quickly see why I nicknamed it the Devils Cauldron…. the way the ocean just builds up into an angry bubbling mass is quite amazing.
Shooting Devils Cauldron in the morning can be tricky if you have a bright sunrise because it is looking straight down the barrel of the rising sun.  I reckon the best time to shoot this is either dusk or when there are some heavy clouds out to see.  Stormy morning would look great.
It is quite safe to shoot Devils Cauldron in most conditions because you can get back away from the water and stay high and dry on some ledges that back onto the cliff.  If you go close to the cauldron, be really careful of the splashes from the big sets.  The waves don't break over the top and rush over you when shooting the cauldron, rather the water shoots up and over you and your gear (watch the video and you'll know what I mean.)
There are some lovely rocks in the foreground that give you a wonderful view onto this slab face.  Be warned however,  these rocks are shaped in a very strange way  to tempt the photographer close to the edge to get that "perfect" angle…. you can watch the waves for 5 min and feel that everything is under control, and then a wave will hit the rocks at just the right angle and it will shoot up water all over your camera gear.  I've been caught twice by this little trap.
Devils River
If you keep following the River North, there are some lovely flat rock shelves that have cascades of water flowing over them.This is a lovely little river that is fed from the Devils Cauldron.  It flows through the main rock shelf and can be quite photogenic.  Also very safe to shoot.  You shouldn't get splashed or too wet shooting this little river.
If you follow the River South (and go past the Devils Cauldron) then you find yourself on an area that I call the exposed rock shelf.  See below.
Exposed Rock Shelf
Now normally the worst thing that is likely to happen to seascape photographers is that they either drop their camera in the water or take a splash on their equipment.
Well when you are shooting out on the exposed rock shelf there are a totally different set of dangers, so please observe the following warning.
WARNING: If you go out onto the Exposed Rock Shelf, BEWARE OF WAVES THAT COULD WASH YOU OFF THE ROCK SHELF INTO THE OCEAN.  YOU COULD RISK YOUR LIFE BEING OUT HERE.
Now that may sound over dramatic, and if there are no big swells running, then you don't have much to worry about, however as you may have seen from the video.  I didn't think it was a problem being on this rock shelf until I was hit with 3 large waves in succession.   I was in no risk of being washed off the rock shelf, but I was in a real risk of having my gear trashed.  If there is a big swell running my advice would be NOT to go out on to the exposed rock shelf.  It is a dangerous place.
There are some spectacular views of the waves smashing against the beautiful cliffs from this exposed rock shelf.
Special Equipment
There are a few bits of special equipment I would recommend for Devils Cauldron.
Rock hopping sandals with an enclosed toe.  There are a couple of places where you could be walking through angke deep water while getting to Devils Cauldron, so best plan for wet shoes unless the tide is low.
Headlamp.  If you are hiking down the rocks  before sunrise, I would advise taking a headlamp as the route will be in pitch blackness.
Grad ND filters.  The rock shelf faces due East, so if you are shooting sunrise, bring your normal kit of grad NDs.
Extra lens cleaning cloths – Salt spray can be problem on your lens element
Best Time of The Day
While I haven't yet shot it at dusk, I think this would probably be the ideal time to shoot Devils Cauldron.  It is also lovely in pre-dawn light.
Tidal Information
You can shoot this at low tide if there is a big swell running, otherwise I would recommend a medium – 3/4 tide with a reasonable swell running to get the drama in the cauldron.   If the tide is too high, you will need to wade through two patches of water (below the knee).
Wind Information
It will be exposed to NE and Easterly winds, but reasonably protected from Southerlys (unless you go around the corner to the exposed rock shelf).  The vertical cliff behind you seems to force most of the wind up and over the cliff, so it is often quite protected.
Getting there
Click Here to see the location marked on Google Maps
Park at the Southern end of Whale Beach carpark and then walk around the rocks South for about 20min.  You have to go all the way through Dolphin Bay.  The walk is not overly strenous or technical. The rocks are pretty easy to navigate although I would reocmmend doing it in the daylight first before trying it in the dark.