Nudgee Beach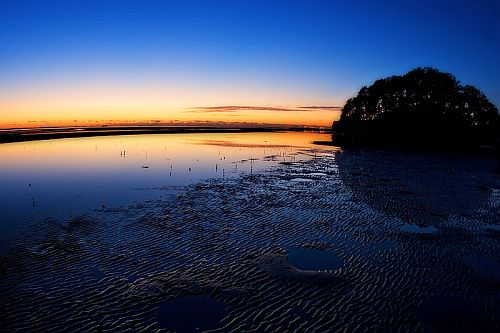 Best Times and where to park
Sunrise at Nudgee beach is the best, it faces out onto Moreton Bay, and no matter what the season, you will see the sun rise over the rippled sand, as long as it is low tide. Check the tide times to make sure that low tide is close to sunrise time, otherwise you might end up with little to shoot.  Park in the carpark and walk down the ramp out onto the sand.
Equipment
You'll need all the standard photographic gear for landscape, including camera, tripod, cable release, wide angle lens, graduated neutral density filters and holders, a spare set of dry shoes and pest repellent such as RID or Aerogard. If you're planning a longer stay, then a macro and telephoto can also come in handy, since there are boardwalks and wetlands nearby.
Points of interest
The low angle of the sun allows the textures of the sand to shine, both as foreground elements and abstracts on their own. Nudgee is situated near the airport, and Fishermans Island, so there are interesting lights to the South, and to the North you'll see the lights of Sandgate.

Looking North.

Looking South.
Other things to see
If you enjoy photographing reflections and interesting patterns, then Nudgee beach can be a wonderful experience. There is a boardwalk through the mangroves further to the North of the carpark, and you are able to capture macros of some of the mangrove oddities. At the end of the boardwalk there is also a bird hide, where you might be able to see pelicans, gulls, cormorants, sea eagles, stilts, sandpipers, oyster catchers and other fascinating birdlife.
Often, once the sun has risen, you'll also see people walking their dogs, and occasionally a horse rider. These all make magnificent subjects, particularly if you are able to capture reflections as well.
Map of Nudgee
Click here to view this location in Google Maps