Swell Festival, Currumbin

A sculpture from 2006, now placed at Broadbeach, across from the casino September, on the beach every year. 2008 – Sept 12 – 21.
Pacific Parade, Currumbin, Queensland, Australia
Swell Sculpture Festival provides the community with a free outdoor event that creates a visual splendour amongst a natural coastal setting and the experience of interaction and wonder as artists create large durable artworks specifically built for the outdoor environment.
Because some of the sculptures are placed on the dunes, you are able to capture them with the sunrise behind them, giving you the option to produce some stunning results. Tide times don't make any difference when shooting the sculptures, however the skies can produce different results, depending on weather patterns.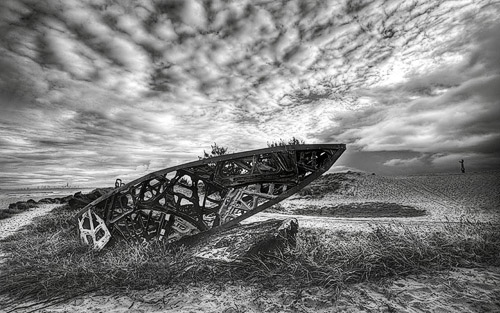 A sculpture from 2007, placed near Currumbin Creek
Equipment
A camera, definitely, and sunscreen, and hat are useful. If you're taking an SLR, then I'd recommend a wide angle lens, for landscape views, but also a telephoto for when you want to isolate a single element. Tripod, ND graduated filters for sunrise, polariser if you're there after sunrise, lens cleaning cloths or tissues, and cable release if you plan on shooting the surf with long exposures.

Looking North towards Currumbin Rocks, with a sculpture in the foreground
Points of interest
Currumbin beach has two handsome sets of rocks, one in the North (as seen above) named Currumbin Rocks, and in the South near the Lifesavers building, where there's another large rock called Elephant Rock. Unfortunately the sculptures are rarely placed near the rocks, so you might need to make a couple of trips to capture the surf over the rocks.

Looking South towards Elephant Rock
Other things to see
The rocks are popular with fishermen and surfers, and make an excellent site for dawn photography. When the tide is low, the reflections in the wet sand are very beautiful. When the tide is high, positioning yourself at the front of the rocks can be dangerous to equipment, with waves often breaking over the top. Caution is necessary on all parts of the rocks, because of slippery moss and sharp edges.
There are toilets at both ends of the beach, across from the carpark at the Currumbin Rocks end, and at the lifesavers near Elephant Rock. There are a couple of cafes in Pacific Parade, and one in the Lifesavers building.
Click here to locate this site in Google maps
Location