Shorncliffe pier or formerly known as Sandgate pier is situated in the suburb of Shorncliffe, Australia. This pier with its white faded timber railings, colonial street
lamps spaced out along the stretch of pier, and resting shelter towards the end of the long pier is an iconic feature of Shorncliffe and a much visited attraction for families, residents and tourists to the area.
The pier is also a very popular newly-wed's destination, on weekends often you see a few weeding photographers taking their sunset and dusk shots.
During the early history of Shorncliffe and its neighboring bayside suburb Sandgate, both were beachside suburbs visited by Brisbane residents for day trips and holidays. In the late 1800s there was enough activity in the area to erect a pier thus beginning the construction of the Shorncliffe pier. In 1865 a company was formed to construct the pier and 7
years later the pier was finished in 1872.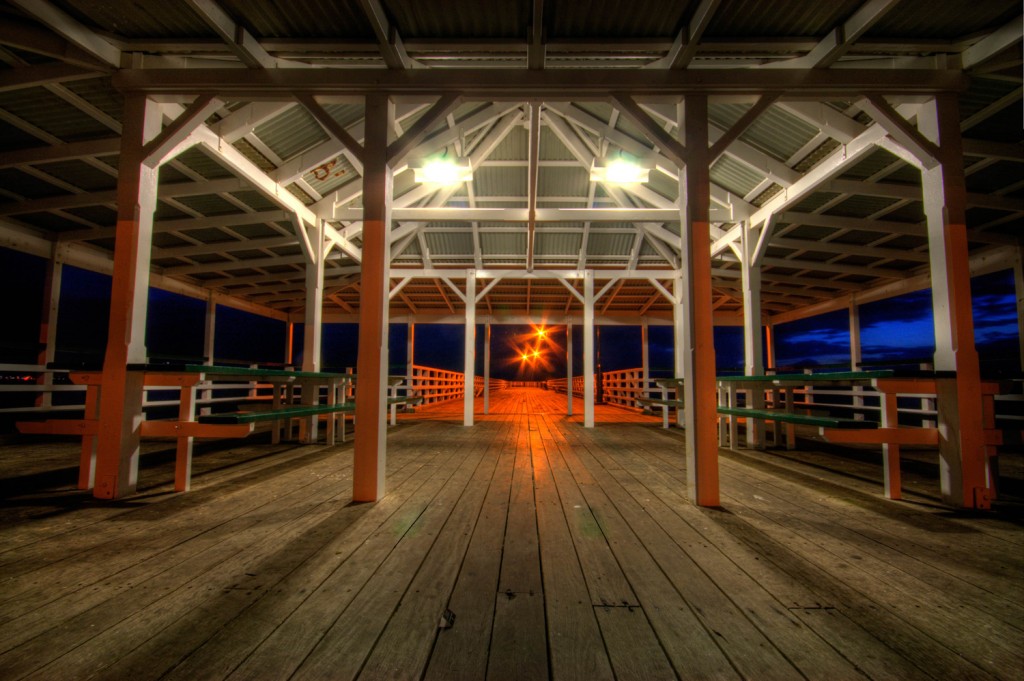 The pier now still stands reaching out into the bay over a century later. An iconic feature of the area, the pier is the start of the Brisbane to Gladstone yacht race in April and is an element in many photographs and pieces of art circulating Brisbane art galleries. With views of Redcliffe peninsula, the Boondall Wetlands, Moreton Bay Islands and the
Shorncliffe cliffs, this iconic pier is a feature in the nautical landscape of this northside Brisbane suburb.
In late 2000 the pier was refurbished and repainted. The boardwalk leading to the pier and the adjoining parks are aimed at attracting tourists to the area and reclaiming its bayside suburb character which the suburb held in its early history.
Special Photographic Features or Notes
The main attraction is the pier itself, but the surrounding boardwalk and beach is also interesting subjects. Another great spot is a bit south of the pier, Cabbage Tree Head, the beach with scattered rocks is great at low tide and sunrise.
The tidal beach is mainly covered in a fine golden brown sand with occasional rock and pebble patches. The sea level along this coast is quite shallow, exposing large areas of beach at low tide.
Best times of the Day
Shorncliffe is definitely a Sunrise and Sunset location. Best lights are dawn and dusk. You can also catch some spectacular full Moon rise over Morton Bay. I would probably recommend low
tide, around the pier it's not that important but if you wandering to the southern part low tide is a must.
Special Equipment
No special equipment needed, just bring your normal gear and a thermos with your favorite brew.
Tidal Information
Getting there
By car (park at Moree park)
By Train (35min from Brisbane CBD) Queensland Rail Time Table
Other useful information