Note: I have put an updated version of this guide on my website under the blog section.  It covers some of the walks in Bright, and also more trails within Mount Buffalo National Park. (30/9/2011).
Described by geologist EJ Dunn as the 'Garden of the Gods', Buffalo Plateau offers numerous photo opportunities for the avid photographer/bushwalker.  Imposing granite tors and vistas encompassing the entire Australian Alpine region make this a worthwhile place to spend a few days.
Special Photographic Features and Notes
Mainly landscape photographic opportunities at Mount Buffalo National Park (MBNP) however there are numerous wildflowers in spring/summer for macro enthusiasts and also birds for wildlife shooters.
MBNP is a very accessible park with a lot of great trails of short duration close to various car parks.  However when in the bush always take appropriate precautions such as bringing a map, compass, water, cold and wet weather gear as the weather can change very rapidly in the mountains and it it easy to get lost as some trails are not clearly marked.
Below is a photo shot just off the Horn walking trail (which is only 1 km long) at sunset.  You can get parking at the Horn parking lot however note that to get here will involve driving along 3 km of unsealed roads.  It is possible to do this in a 2WD car.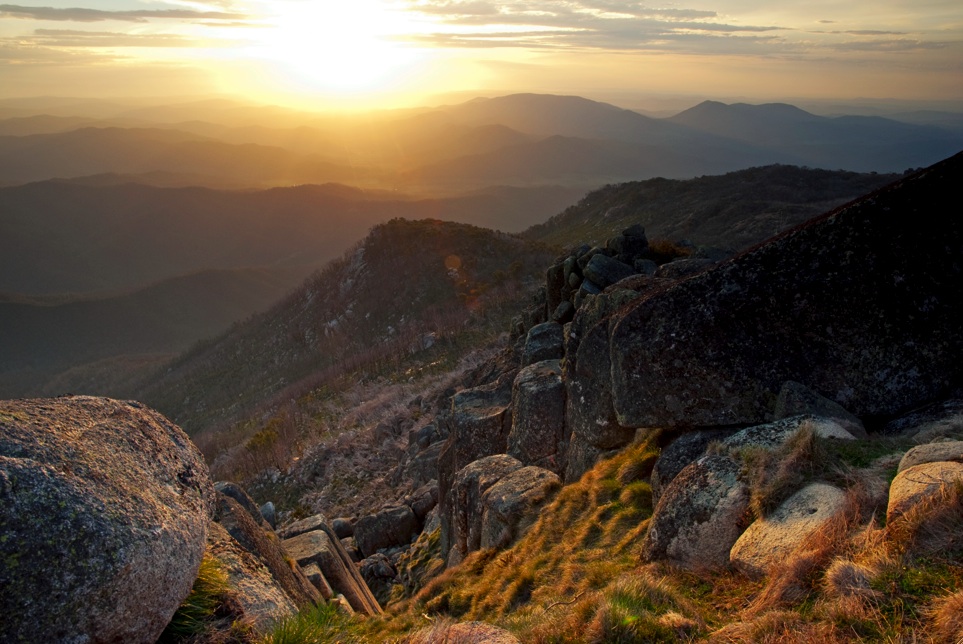 Another photo from the Horn walking trail at sunset.  This shot does not require you to deviate from the trail.  Note that the elevation from the Horn viewpoint (which is above where this shot was taken) allows for 360 degree views of the Australian Alps.  You may wish to bring a telephoto lens to compress the layers of mountains.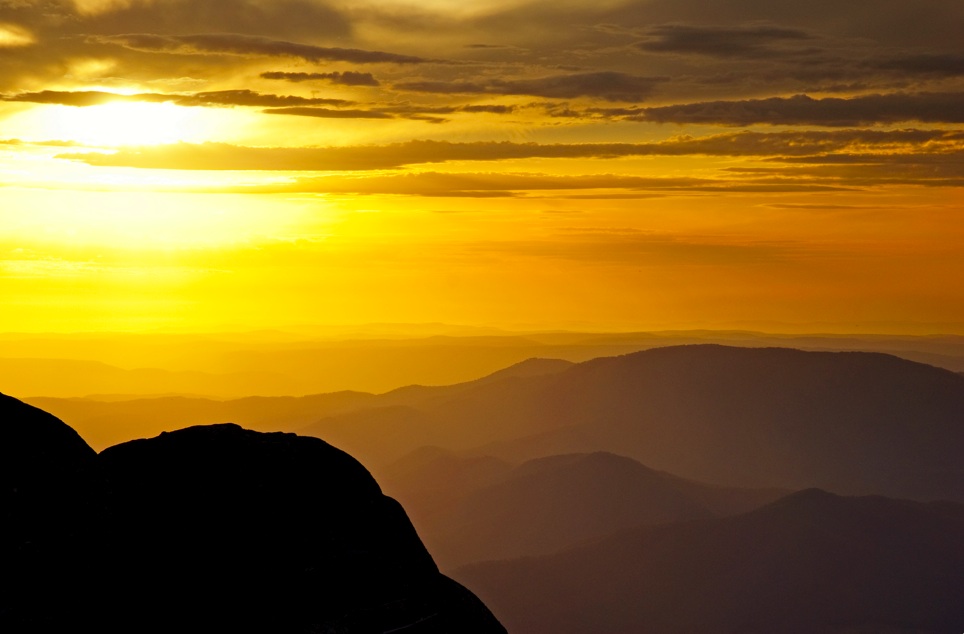 Photo taken from the top of the Hump walking track at dusk. Once again, this is a very short track (~1.5 km) and is easily accessible from the car park at its base.  Note that the altitude of MBNP tends to lead to interesting cloud formations as you can see below.  This is also an excellent spot for viewing sunsets as there are 360 degree unobstructed views of the Australian Alps.
Below is the view just off the 'Mac's Point' walking track.  This is only about 400m from the road so once again this is a very accessible location.  The big rock structure in the background is known as the Cathedral.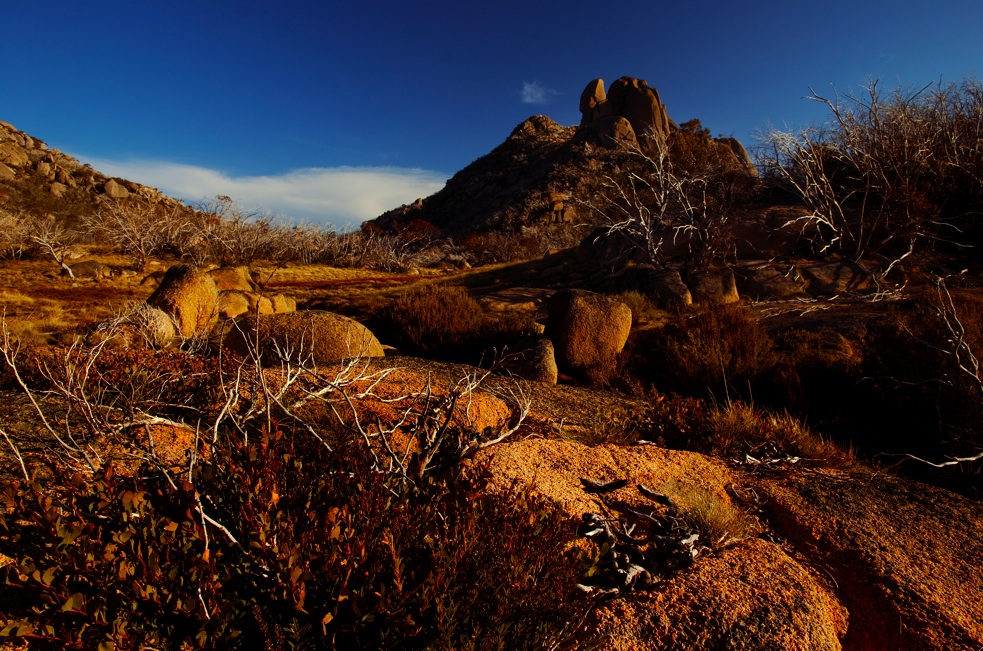 Close up shot of the Cathedral rock formation in the late afternoon light.  This was taken just after the point where the Cathedral track and the Hump track diverge.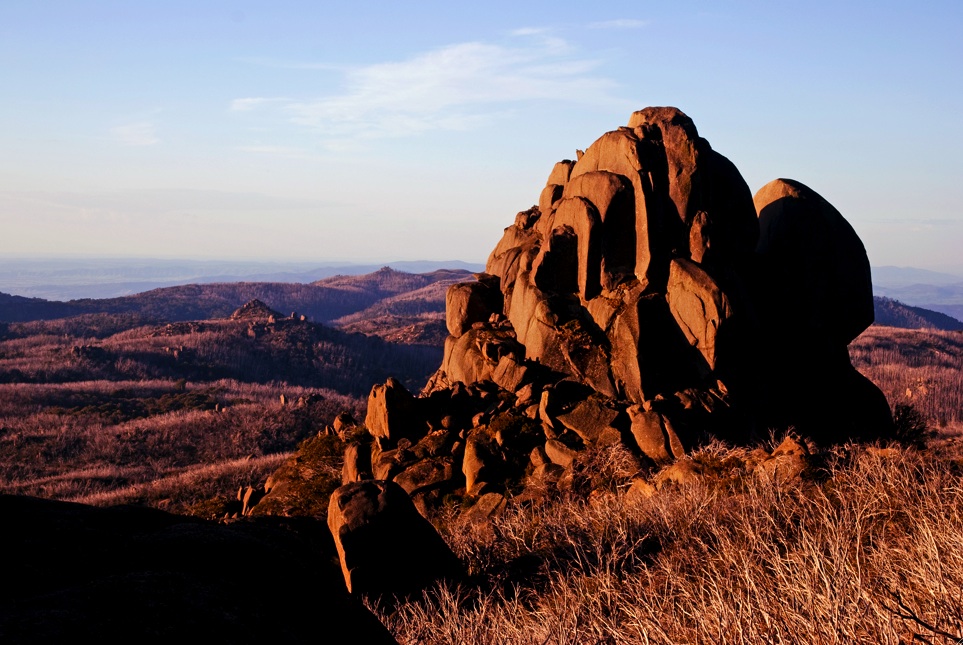 Special Equipment
MBNP is an all seasons park and so is open thourghout the year.  Keep in mind you may need chains / cold weather gear if you intend on going in winter.  I recommend going in spring when the weather is fine and the wildflowers are in bloom.
Camera Equipment
Bring a tripod in order to shoot at low ISO's for cleaner images
Shoot f8-11 if possible to increase sharpness and depth of field
Bring graduated neutral density filters if you intend on taking landscape photos
Hiking Equipment
Bring cold/wet weather gear as the weather can change very quickly in the mountains
Bring a compass and a map as not all the trails are clearly marked
Getting there
The Victorian High Country is about 4 hours North East of Melbourne.  Porepunkah is the nearest town to MBNP, however Bright is only 5 minutes down the road and has more accommodation and eating options – I would recommend staying there.  There are plenty of motels for a very reasonable price.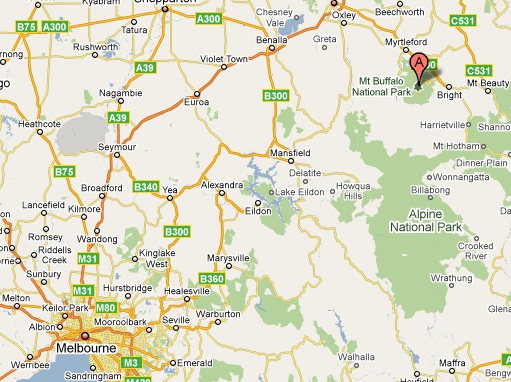 Note that it will take approximately an hour from the entry gate to get to the Hump / the Cathedral so plan accordingly.  Also note that the everything in Bright shuts down ~9PM so if you're taking sunset shots make sure you bring dinner with you or make appropriate plans.
Good luck,
Sze
www.stphotographics.com