Wilson's Promontory or 'The Prom' to locals is one of Victoria's best known and well-loved national parks for a very good reason – sweeping ocean vistas, glorious sunsets, coastal forests and an abundance of wildlife greet travellers willing to make the 2.5 hour drive from Melbourne.
Photographic opportunities at the Prom are numerous, with something to offer for landscape photographers, macro enthusiasts and wildlife shooters.  It is definitely worth spending a few days here at any time of the year (yes, even in winter!).
Special Photographic Features or Notes
Wilson's Promontory is a large national park (50,000 hectares) that is the southernmost point on the Australian mainland.  After entering the Prom at Yanakie, it will take you about 30 minutes of very scenic driving to reach the main development at Tidal River.  Here you will find a general store, accommodation, toilets, and a tourist information centre.  The information centre has some very helpful staff who can provide you with trail maps and recommendations.
There are numerous easy day walks that you can do ranging from 1 – 10 km.  There are also longer overnight walks you can do, however these require permits to be obtained from Parks Victoria and a lot more planning and equipment.  For the moment, this guide will only deal with locations that can be accessed on a day walk.
A PDF with a list of day walks and an acompanying map can be found on the Parks Victoria website (http://www.parkweb.vic.gov.au/resources05/05_2128.pdf)
I will not go through them all here but will go through some of my favourite walks.
Loo-Errn Track
A very short (1 km) walk that is accessible from the car park opposite the information office.  Provides some great photo opportunities especially when the weather is calm, and the mountains are reflected in the murky waters of Tidal River.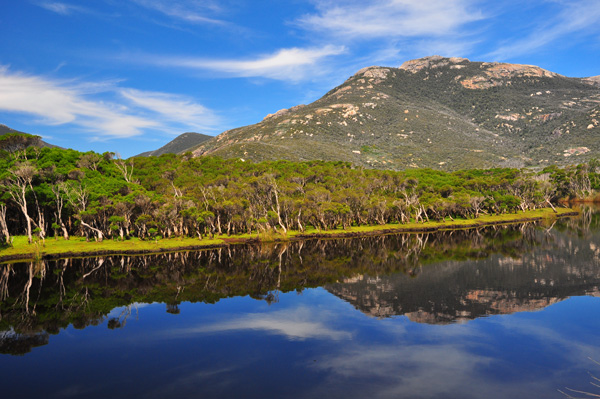 Squeaky Beach Track
A little longer than the previous walk at 2 km but this walk is worth it because on your way to Squeaky Beach you will have to go uphill, which means that you will get views looking back down onto Tidal River and Norman Beach.
On the other side of the hill, you are rewarded with stunning views over the cerulean waters of the Prom and the white sands of Squeaky Beach.  There are also many wildflowers scattered along the path leading down to Squeaky Beach (so named because the dry sand squeaks as you walk on it!).
Lilly Pilly Gully Nature Walk
Not one of my favourite walks, I only put this here so other people can benefit from my experience.  It is quite a long walk (~5 km return) with not a lot to see except ferns and trees.  I wouldn't do this walk again.
Mount Oberon
This is a long, hard slog (~7 km return).  Not much to see except trees on the way up to the summit, however given the elevation the higher parts of the track can be shrouded in cloud which can lead to some interesting pictures.
An important point to note is that the summit is often socked in – you will reach the top of Mount Oberon only to be faced with a wall of white cloud with no views to be had.  This apparently is not uncommon, even in summer.  Bring cold and wet weather gear on this hike as it can get quite chilly at the top.
Whisky Bay
Probably my favourite walk as there are interesting rock formations at both ends of the beach, and the beach itself is only 300m from the car park.  The sunsets here are amazing, and apparently are the best at mid-summer when the sun sets directly behind Norman Island.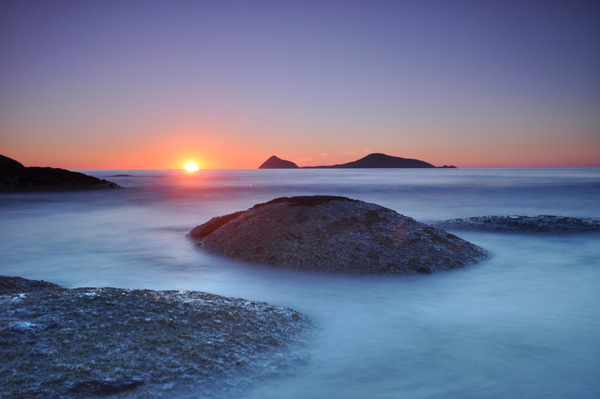 Check back every few months or so, as I will try to update this page as I myself find new spots at the Prom.
Special Equipment
Safety warning and equipment
This is a national park so there is lots of wildlife, but not all of it friendly.  Snakes and bull-ants are common.  Make sure you take appropriate precautions such as carrying a first-aid kit (and be sure you know how to use it 🙂 and wearing long pants and covered footwear.
Also the weather can change very rapidly given how exposed the Prom is so make sure to bring cold and wet weather gear if you are going on a longer hike.
Irrespective of how short or long your hike is I also recommend brining plenty of water and energy snacks.
Drive slowly when leaving the Prom at dusk because kangaroos and wallabies often fee by the side of the road and hop across unexpectedly.
Photography equipment
Tripod for low-light shots, timed exposures
Telephoto for wildlife
Macro lens for flowers, bugs etc.
Graduated Neutral Density Filters if you are taking sunset/sunrise shots
Backpack to store it all in
Getting there
From Melbourne
Get on to the South Gippsland Highway at Dandenong and head to Cranbourne keep going until you see a sign that says Korumburra / Leongatha on the left turn off there (dont go through to Phillip Island) that will make trip (about 1.5 hrs longer).
The next big town you come to is Leongatha at the roundabout turn left to Foster.  The next town is Meeniyan when leaving this town you will see a sign that says Wilsons Promontory Via Fish Creek or Via Foster you can go either way. I prefer the Foster route as there are some stunning views of the Prom as you approach north Foster.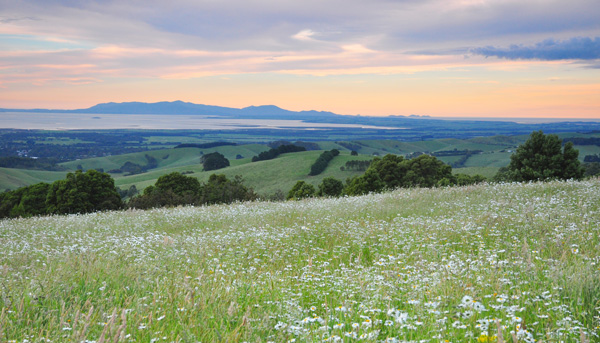 The next town is Yanakie (very small town) general store/petrol station and about 6 houses . Keep heading toward Wilsons Promontory National Park.  It will take you about half an hour of driving to reach Tidal River (the main tourist area) once you pass the park gates.
Places to stay
We did not stay in the Prom itself as it is difficult to get a camping spot / cabin in peak season and Tidal River has limited numbers of both.  Instead I stayed at Yanakie which is about 30-35 minutes from Tidal River.  The place we stayed at was called Tingara View Cottages and cost $130 a night (as at 3 DEC 10).  If you are thinking of staying outside the park I would recommend this place as the owners are very hospitable, and the cottages are well-kept and have pretty much everything you need.  On top of the usual stuff they also have a CD and DVD library for you to enjoy after a hard day's bushwalking.  Additionally there are guide books / cofee table books on the Prom in each cottage so you can plan your adventures for the next day.  The friendly dog that lives with the owners is a bonus 🙂
Also as an aside, Parks Victoria also have wilderness retreats at the Prom (i.e. luxury tents) at around $250 a night (as at 3 DEC 10) if you feel like splurging.
Cheers
Sze
www.stphotographics.com