Don't have time to travel 4 hours to regional Victoria and go traipsing around the bush?  That's ok, plenty of great shots around the CBD (although it would be good to get out of Melbourne as well 🙂  In particular Southbank is quite a photogenic area.
Special Photographic Features and Notes
Mainly cityscapes here, and quite picturesque ones at that.  Of course there is the opportunity for some street portraiture around point 1 where there a quite a few outdoor cafes/restaurants and tourists hanging around outside Crown Casino.
On the map it is too small to see but between points 3 and 4 there is actually a lower walkway along the river that provides some nice shots, and will also get you away from the crowds that usually populate Southbank.  There are steps to access this walkway at various points along Southbank.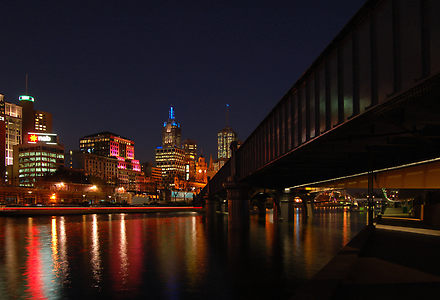 The above shot was taken near Sandridge bridge at dusk, f8, 10 second exposure from memory, hence the light streak in the foreground which was actually one of the boats that cruise the Yarra.  Sandridge bridge is actually quite photogenic as it has a semi-glossy coating of paint that reflects the city lights.
Also try photographing the bridge in point 4 which can be discerned in the background of this image.
Above is the view from the Queensbridge St bridge on the hour.  You can just see the fireballs appearing on the left.  It was shot a bit late as the sky has started taking on a weird red glow form all the artificial lights.  If you shoot around dusk the ambient light will overpower this.
Special Equipment
The best times to go are at sunset / sunrise and first light / last light (less crowded, better light)
Bring a tripod in order to shoot at low ISO's for cleaner images
Shoot f8-11 if possible to increase sharpness and depth of field
The columns outside crown casino shoot fireballs on the hour, every hour
Wide angle lenses work the best
Getting there
I'm assuming some people reading this won't be from Melbourne and could be from overseas.  If so the easiest way to get to Southbank is getting to Flinders St. station either by train, bus, tram.  From Flinders St. station walk down St. Kilda road towards the Shrine of Remembrance.  Once you cross Princes Bridge turn right and you are on the south bank of the Yarra (i.e. Southbank).
If you need parking for your car the closest places I know of is behind Federation Square, just off Flinders St or the parking building at Crown Casino (near marker #1).
Map of Southbank area
(1) Crown Casino
(2) Queensbridge St bridge
(3) Sandridge bridge
(4) Flinders Walk bridge
Good luck,
Sze
www.stphotographics.com